This site serves as guidelines for the visual identity for Viking FK. It tells you how to properly use the different tools and elements that make up Viking FK's visual language. It's important you make sure to read and understand these guidelines before creating any design or visuals for Viking FK.
It also contains link to download logos, fonts and other elements you'll need to create content.
Please read thoroughly and have fun creating!
The dark blues
Viking Fotball club, commonly known as Viking or Viking Stavanger internationally, is a Norwegian football club from the city of Stavanger. The club was founded in 1899. It is one of the most successful clubs in Norwegian football, having won 8 Norwegian top division titles, most recently in 1991, and 6 domestic Norwegian Cup titles, most recently in 2019.
The club has played more top-flight league games than any other club in Norway. It has played in the top division since the league was established, except for the years 1966–67, 1987–88 and 2018. Notable European successes include knocking English side Chelsea out of the UEFA Cup during the 2002–03 season, knocking out Sporting CP from the same tournament in 1999–2000, and qualifying for the group stages of the 2005–06 UEFA Cup.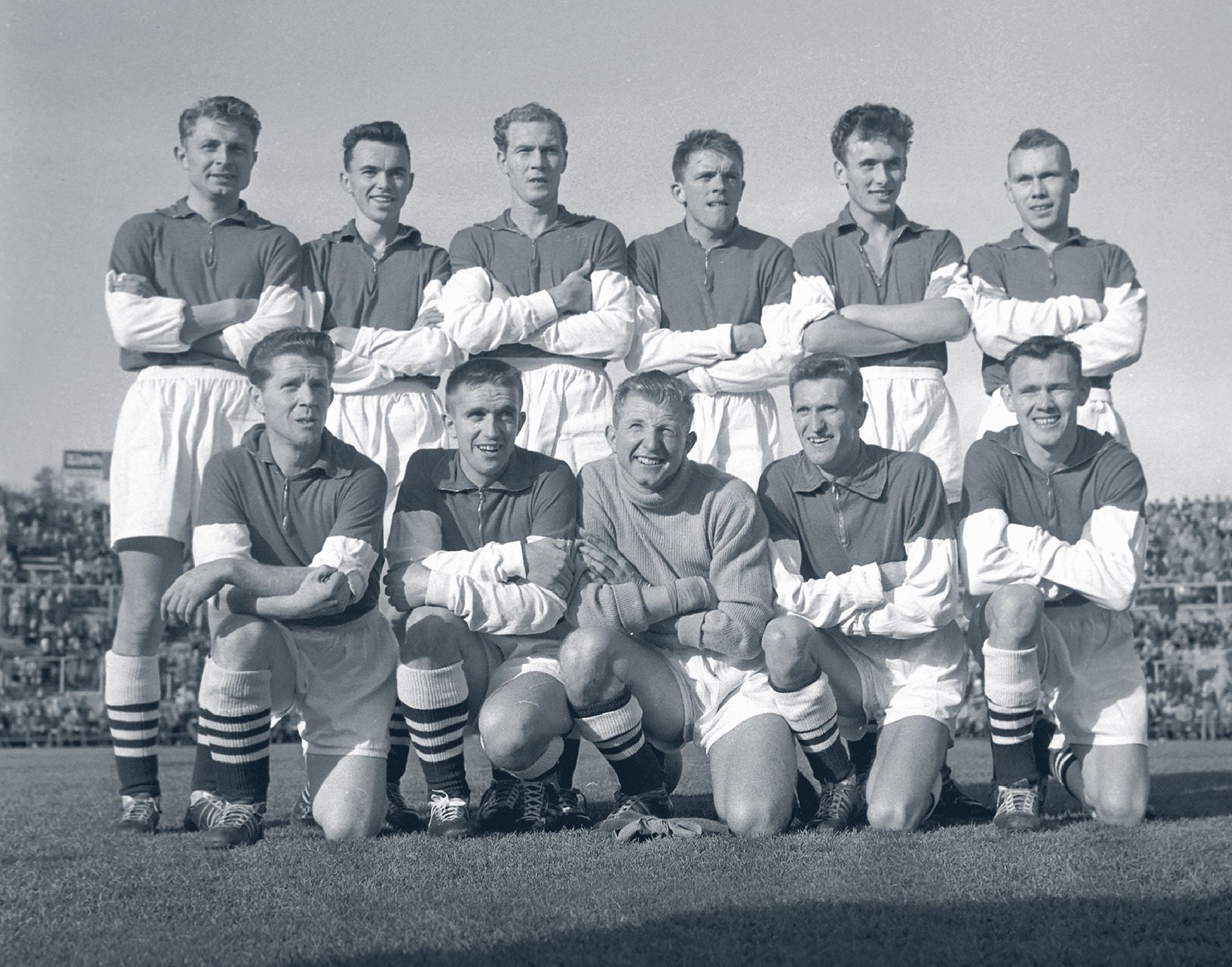 Logo
The club badge is shaped like a flag, and remained relativly unchanged from the club's formation in 1899 until 2020. In January 2020, the club introduced a redesigned badge. The flag shape remained, but the font was changed. The oak tree stump graphics were also changed, the year of foundation (1899) was moved and the name of the home city (Stavanger) was made slightly smaller. Additionally there's been added a dark blue (and gold) version of the logo for secondary use.
Safe zone
We should always aim to keep the logo a proper distance from other elements. As a general guideline, the safe zone around the logo should be based on the largest font size.
Dont's
It is important to use the logo properly, and that we make sure it is not manipulated, stretched, or changed in any way. Be consistent – use the new, updated logo.





Typography
Two fonts are used, and it's the combination of these, together with the logo and symbol, that creates Viking's visual language. Primary font Brothers is used for all headlines, merch and signage. The font is the voice of the club and an important part of Viking's identity. There is a quality of boldness in the letters that reflects the spirit and history of the club. Secondary font Gotham is a sans serif with a large family of styles. Viking mainly use Gotham book and -medium for info and longer texts.
For internal use Viking FK use default font Arial, but we recommend to use Brothers and Gotham, if possible, for all things designed.
Color palette
The combination of blue, white and gold creates Viking's visual identity – while the red are only to be seen in the club's main logo. Our brand consists of five colors; White, black, turquoise, yellow and blue.
These colors should never be altered, and only used in the manner shown on this site.



The Vikings
The Vikings are the manifestation of our slogan: Power and Love. The symbols are one of the main elements in our identity, and are available for download in several variations.
Equality Symbol


A symbol with the two vikings together, to use for strenghtening our slogan of power and love and a symbol for equality. This symbol can only be used on dark backgrounds, you will find a gold and a white version for download.

Slogan
Viking Football is power and love.
Everything we do, everything we are involved in and everything we build is done with power and love.
The slogan as a visual tool is, for now, only available to download in Norwegian.
In need of assistance or have a question?
Contact Kjartan or Frode.
Kjartan Aa. Salvesen
Markedssjef
kjartan@vikingfotball.no
(+47) 971 11 111
Frode Skaren
Designansvarlig
frode@uglylogo.no
(+47) 916 81 419
VIKING FOTBALL © 2020 | Updated 06 / 2020