Startup Norway
Brand Guidelines
This site serves as our guidelines for understanding and handling the visual identity for Startup Norway. It tells you how to properly use the different tools and elements that make up our visual language.
It is important make sure you read and understand these guidelines before creating any design or visuals for Startup Norway. It also contains link to download logos, fonts and other elements you'll need to create content.
Please read thoroughly and have fun creating!
At the core, we are community builders and creators. We build ecosystems where startups can thrive, and we create situations where where entrepreneurs and investors meet, engage and influence each other. We provide the tools for bold dreamers to create businesses, follow their dreams and build a better future. We always work hard, but we also have fun doing it.
This common drive is the basis for our concept and visual identity, represented through simple building blocks. These blocks make up our logo and from the basis for our visual system.
Startup Norway acts as the parent brand at the top of our brand hierarchy, which we call a "house of brands". That means that all of our sub-brands are based on the same concept and visual system, creating a cohesive visual language for all our products and sub-brands.
Although there will be some differences between the different products and sub-brands, we always need to keep in mind that they are a part of the same visual hierarchy.
Startup Norway's logo is made up of two parts: Startup Norway written in Druk, as well as six geometric building blocks that together make up an abstract abbreviation of our brand name.
This system is the same for all logos within the Startup Norway house of brands, and should also be used for any future logos that might be created to accomodate new products or sub-brands.
Our logo comes in two variants; positive/black and negative/white. The logo should always feature on branded material, and must be used like instructed on this site.
We always need to use the logo in the correct way to ensure good brand recognition. Never change or experiment with the logo: it is the foundation of our brand and as our signature, it needs to both be consistent and used in a consistent manner.
Safe Zone


We should always aim to keep the logo a proper distance from other elements.
As a general guideline, the safe zone around the logo should be based on a singular logo-"block".


Common mistakes


It is important that use the logo properly, and that we make sure it is not manipulated, stretched, or changed in any way.

Colors are an important part of any visual identity; the colors communicate who we are, the energy we bring and how we want to be seen. The way we use our colors is just as important as which colors we use. The balance between them can communicate different things; using the colors freely will communicate a stronger sense of playfulness, and a more conservative usage can communicate a more serious approach.
We should only use the brand colors as shown below, and only used them according to our brand guidelines.
Color palette


Our brand consists of five colors; White, black, turquoise, yellow and blue.
White should serve as the foundation, with the additional colors as supporting colors.
These colors should never be altered, and only used in the manner shown on this site.
Color usage and hierarchy


This chart shows the ideal color balanse we should strive for when creating new compositions.
White spaces should be the dominant color in our visual language, with black used for content and type.
Use turqouise, yellow and blue as supporting colors. These colors can be used to highlight content, or just to simply bring contrast and some playfulness to a composition.
However, nothing is stopping us from breaking the rules every now and then; feel free to experiment with the colors when creating posters or visuals!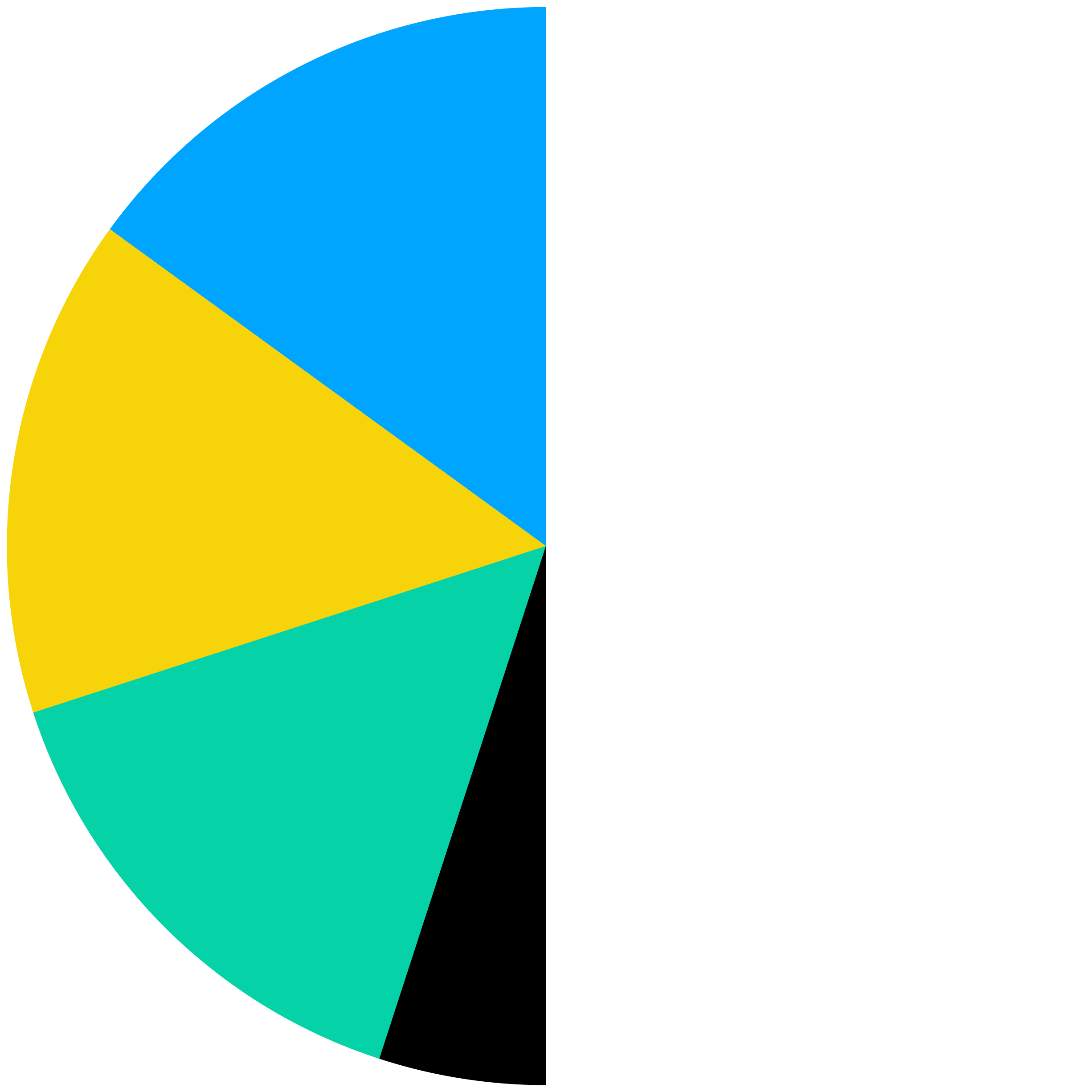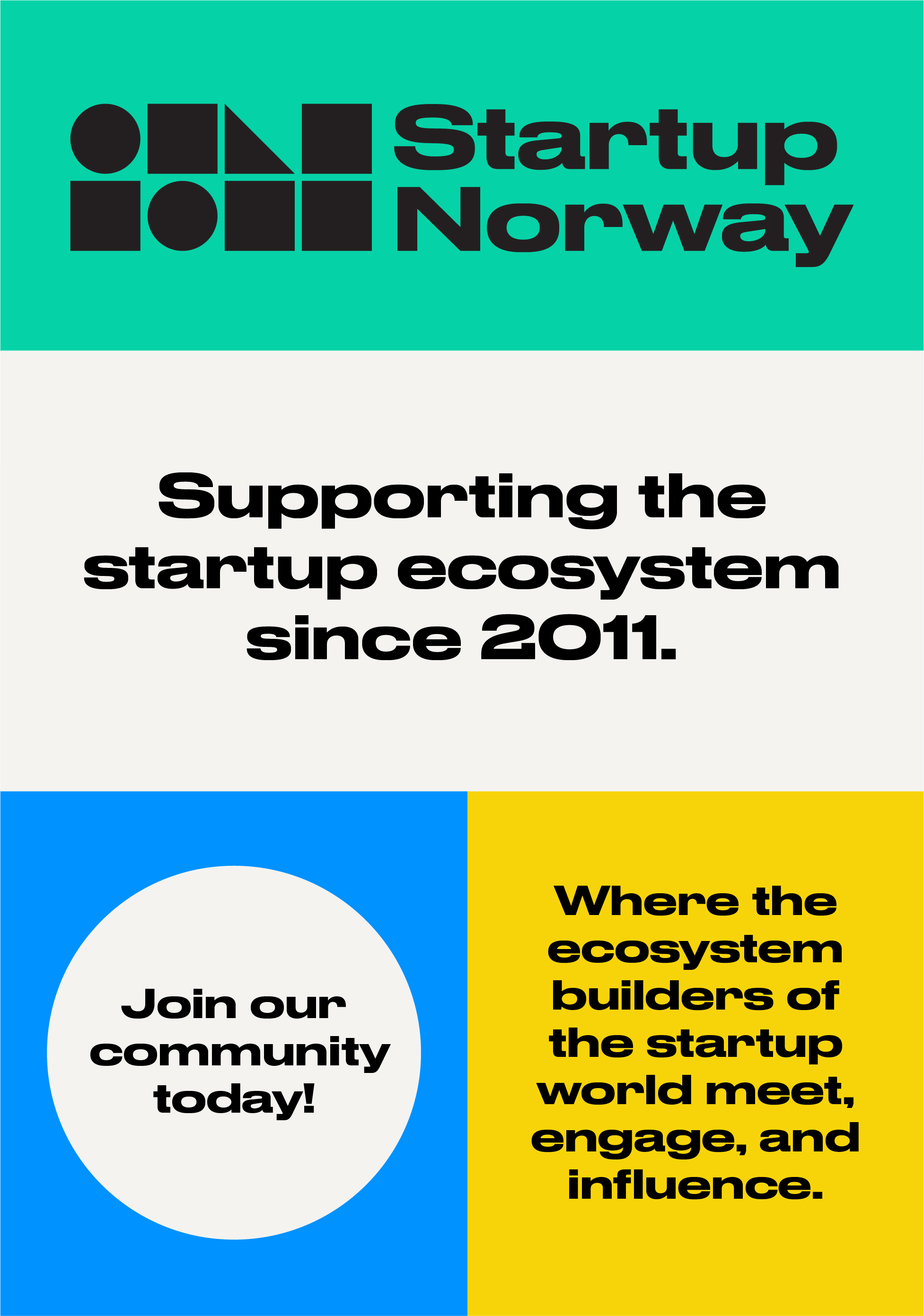 This is our standard way of balancing color, with white as the dominant color.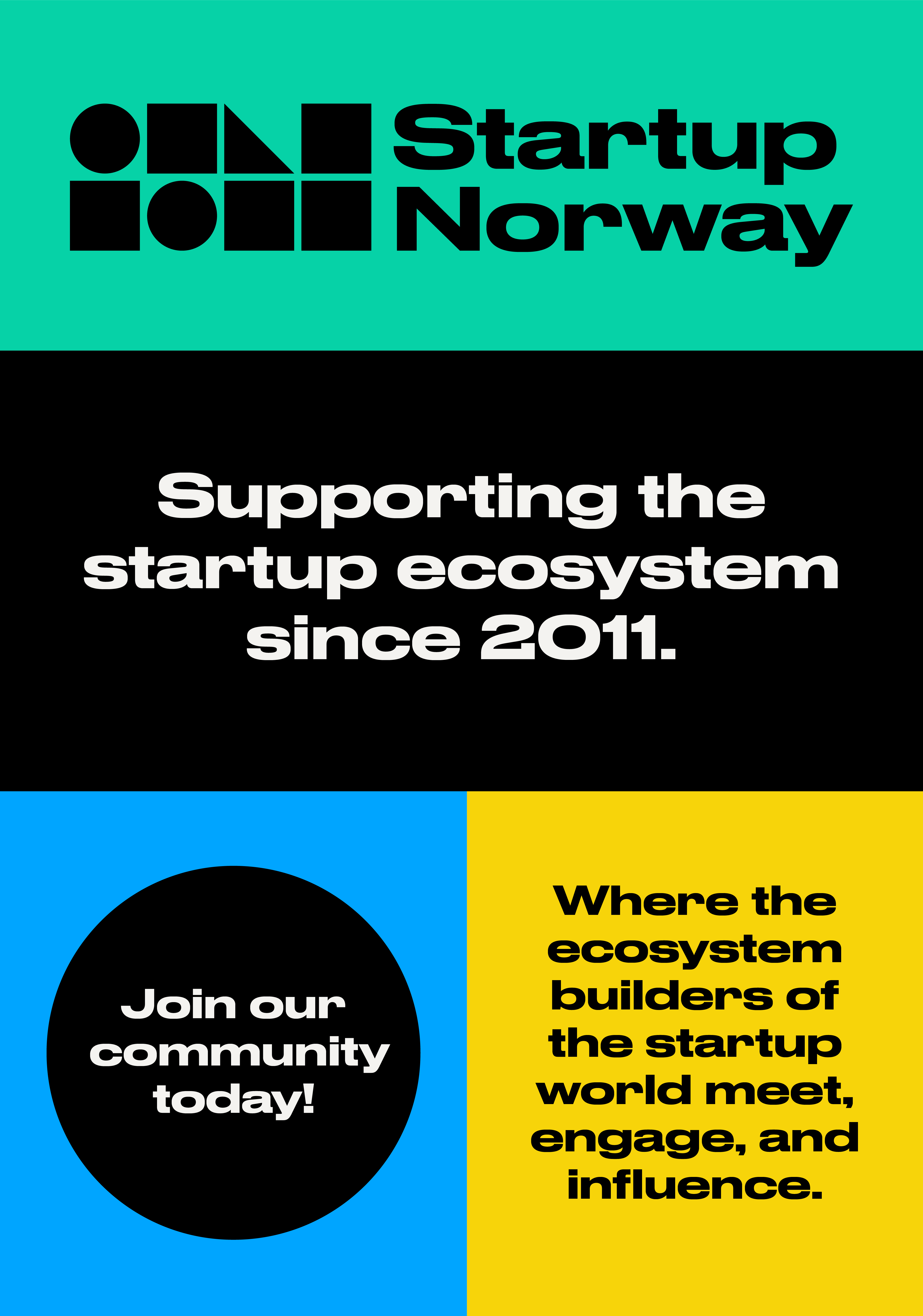 ...However, if the occasion calls for it, we can invert the black and whites as we wish.
Our choice of fonts is a reflection of who we are and how we want to be seen. We use a mix of typefaces that range between being playful and classical, giving us the tools to handle anything from lighthearted, fun posters to serious documents and contracts without compromising our identity.
It is important that we stay consistent with our fonts and how we use them; see the guidelines below for an introduction to our typefaces and how they should be used.
Druk Wide Medium


Druk is our main typeface, used on all promotional material, headers, and wherever brand recognition is the goal. We only use Druk wide Medium.

Montserrat


Montserrat Regular and Medium is our main support font, to be used in shared documents and situations where legibility trumps brand recognition.
Montserrat also serves as a fallback alternative for Druk in online google documents.

Merriweather


Merriweather is the font we use in large bodies of text, for optimal legibility. Avoid using this in headers and introductions.

Font usage and hierarchy


This example illustrates the correct typographic hierarchy.
Druk Wide Medium should be used for large headers, Montserrat should be used for small subheaders, introductions and the like, while Merriweather is used for large bodies of text.
In web-hosted documents and shared content, Druk might not be available. In these cases, we use Montserrat as a fallback font for headers.
For large bodies of content, the text should be aligned left. In statements and shorter content, the text can be either aligned left or centered.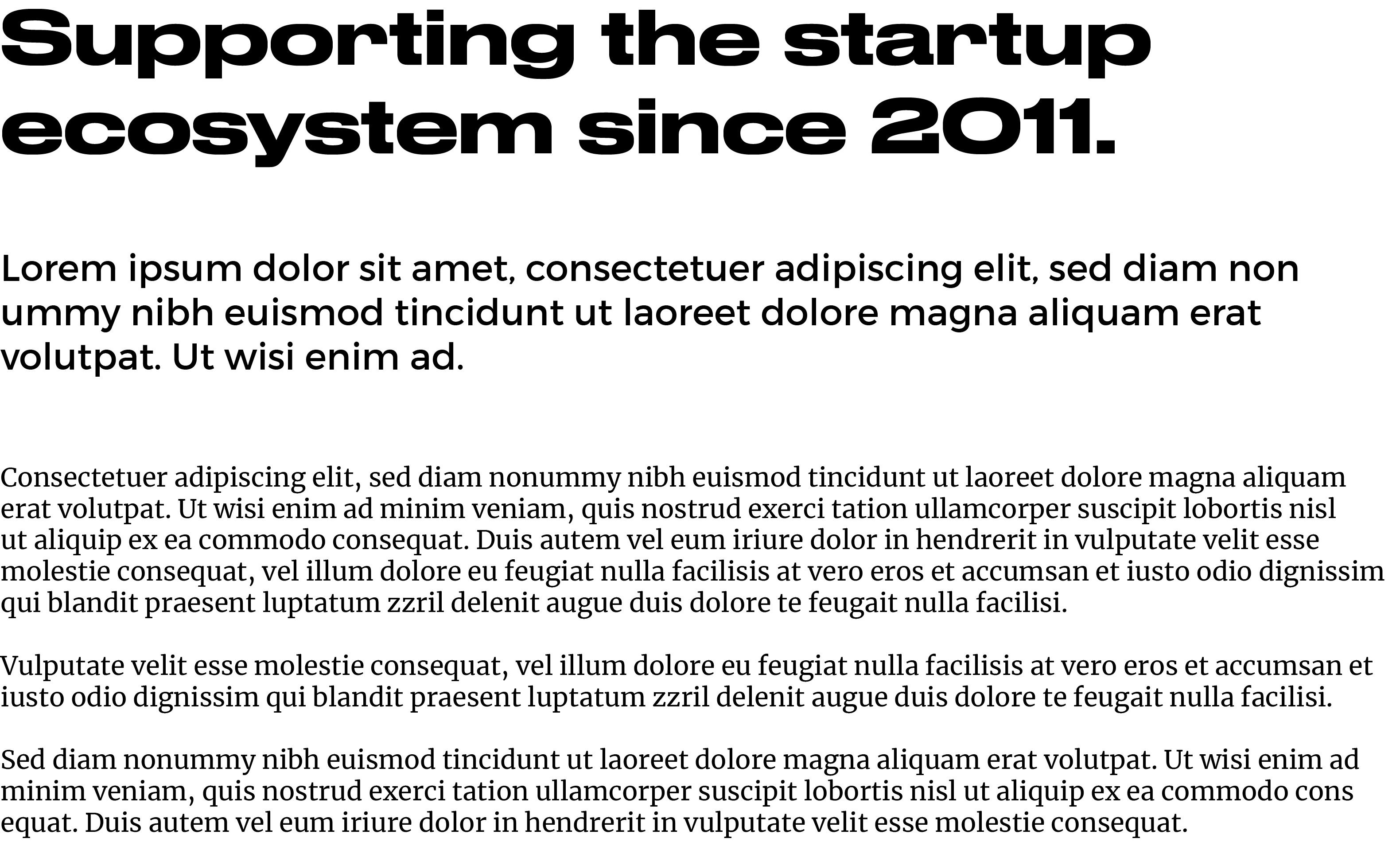 In addition to our logo, colors and typography, we also have access to patterns. These patterns can be used either as decorative elements either on their own or as part of a larger design. The patterns gives us the option to experiment more and be playful when we feel the need to or simply want to.
The guidelines below will show our two different approaches to patterns, as well as provide ideas and instructions on how to use them.
Our first pattern is the logo pattern; this pattern consists of our logos arranged together and represents the totality of our brands, coming together to create something larger than itself. This patterns is mostly intended to be used on its own, although this is up to the designer. A few examples on where this could be used to great effect is as a backdrop at a conference, or as window foil in the office.
The pattern is not regulated by strict rules, so feel free to experiment with it!
We also use separate shapes as a design tool in our layout; either to frame and highlight certain information by placing it around or within a shape, or simply to add some flavour to a more playful layout.
The concept of building blocks shapes our layout as well as our concept. Our design system is built around strict geometrical boxes; we use these to separate content and create hierarchy in our layout.
The grid


Simplicity is the key to our design system. Use our box system to separate shapes and divide content in a logical manner.
Our grid is simple; It consists of 12 rows of 4 columns, that can be filled by content like the example shown.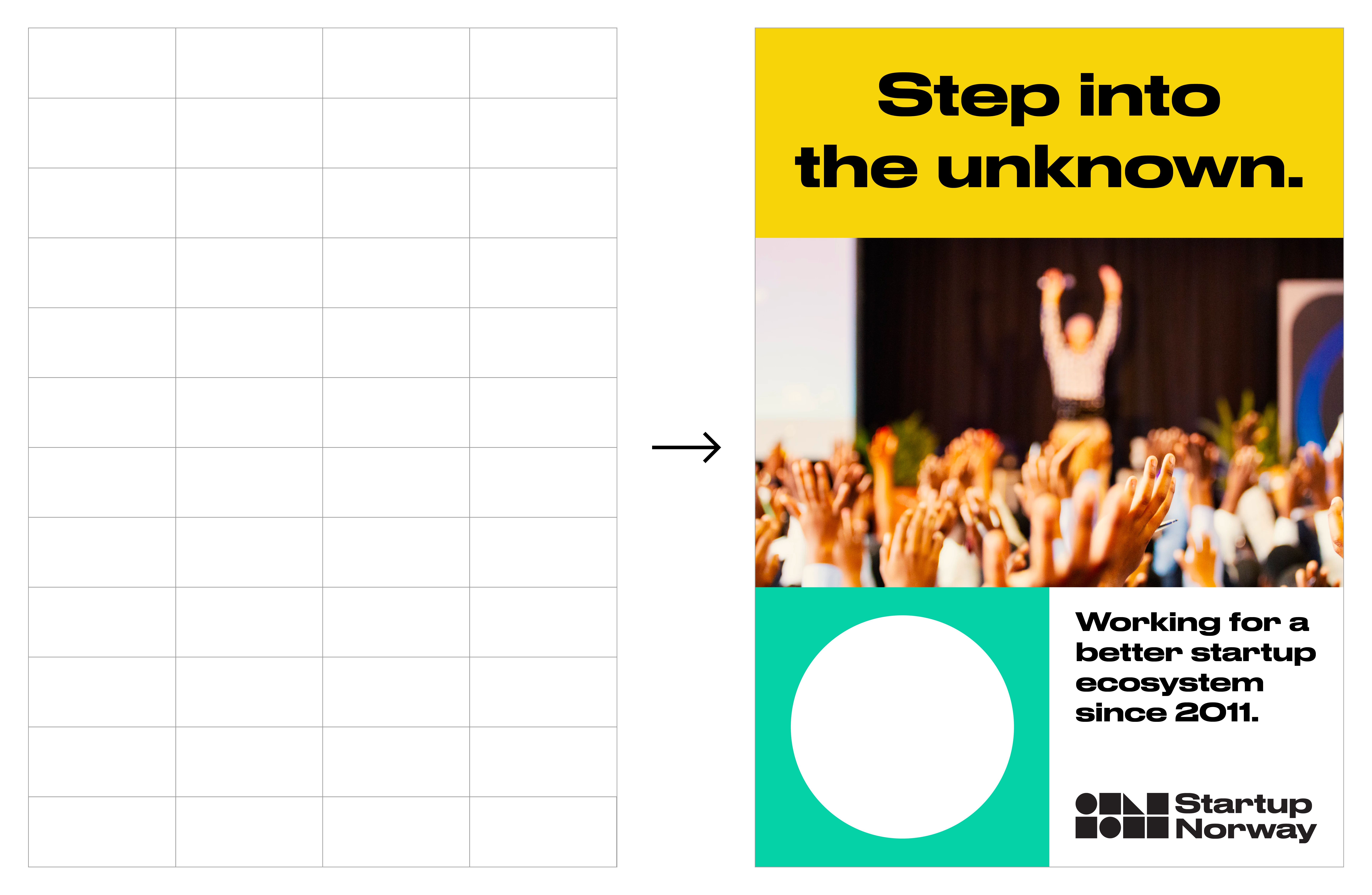 In situations where we have little space to work with we can reduce the amount of rows or columns, as long as the visual language stays coherent.

Tone of voice is important for us in order really to connect with our audiences. Tone lets our personality shine through. Tone strenghtens our brand identity. Tone enables us to stand out from our competition.
In Startup Norway we aim to keep our tone positive, bold, motivational and encouraging. We aim to write copy that's more than just informative. Our copy should make our audience actually feel something. Use short, strong statements above long, complicated sentences.
Do's


- Keep it short and to the point
- Be informative and emotional
- Dare to be bold


Don'ts


- Don't use cliché startup-jargon
- Don't be generic

Photography can be a powerful creative tool that helps to project Startup Norway in the way that we would like: Positive, bold, motivational and encouraging.
Startup Norway's photographs aim to capture real life situations, whether using people, places or objects. We focus mainly on the people that constitutes the startup community, in events and facilities hosted by Startup Norway.
Our photography should feel natural rather than artificial. Avoid stock-like photography that feels staged and contrived. We prefer genuine spontaneity and real life interactions.