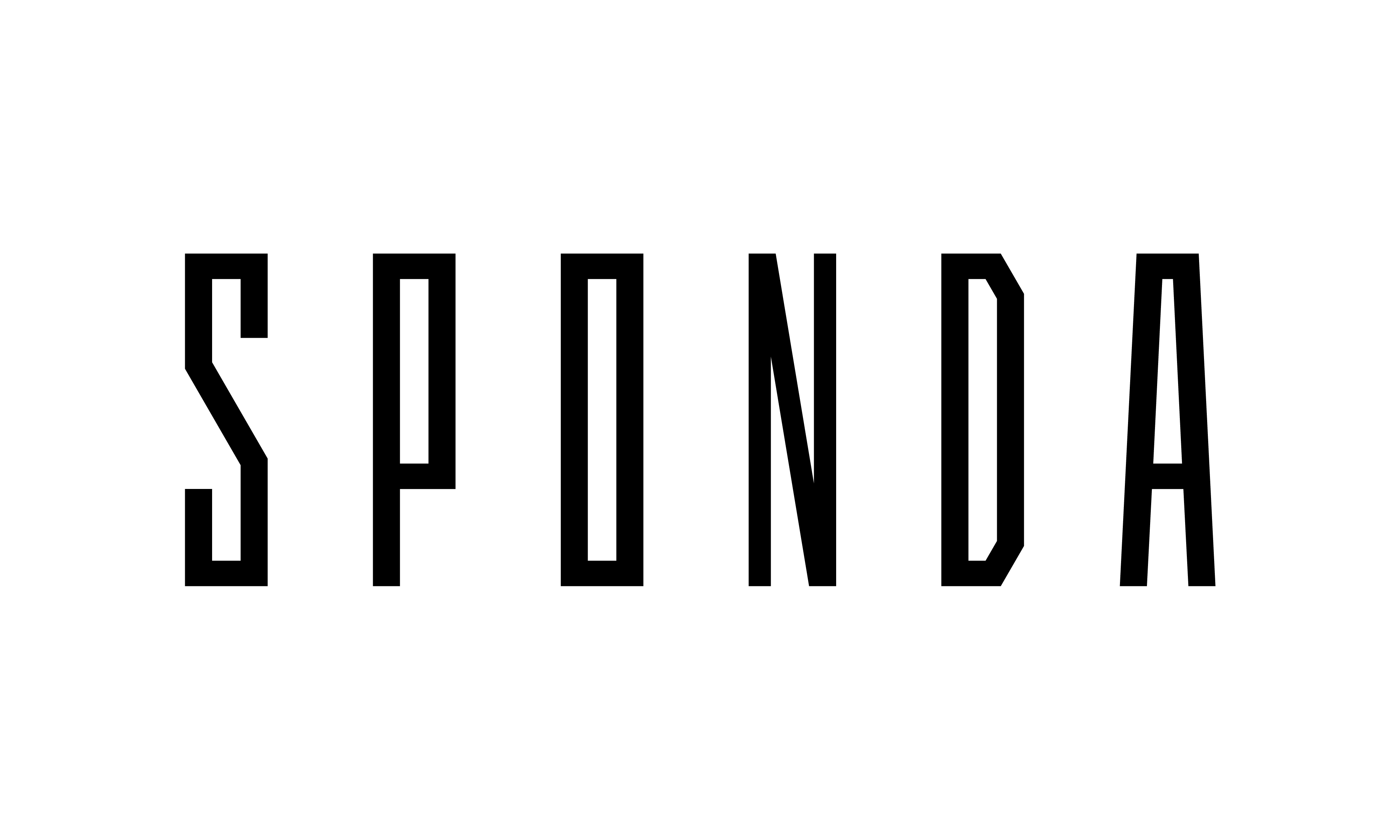 Brand Book


At Sponda, we empower companies through premium real estate. We provide spaces in premium locations with tailored service offering, built to the latest environmental standards. Spaces that make business easier and simpler.
All this shows in our brand. The desire to go the extra mile. The passion to give our customers the space to shine.
Assets and instructions, tips and inspiration, that is what this Brand Book is created for—all the essentials to make the Sponda brand thrive and stand out.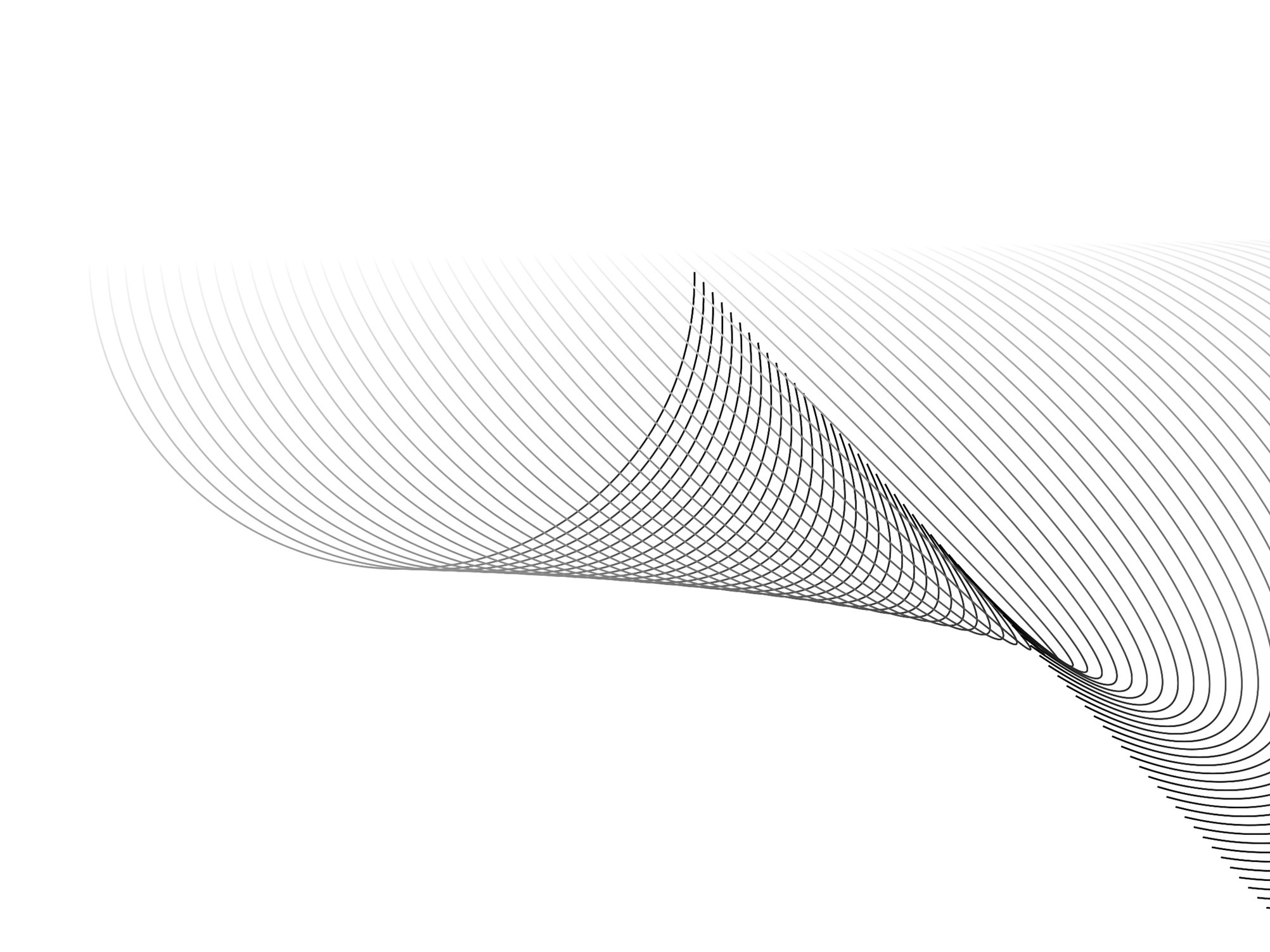 1


Brand Assets,
Tools & Rules


A guide to the Sponda identity assets and visual specifications


By using Sponda's visual elements, in line with the guidance provided, the brand appears coherent, consistent and appealing:
1.1 Logo
1.2 Typography
1.3 Colours
1.4 Icons
1.5 Illustrations
1.6 Photography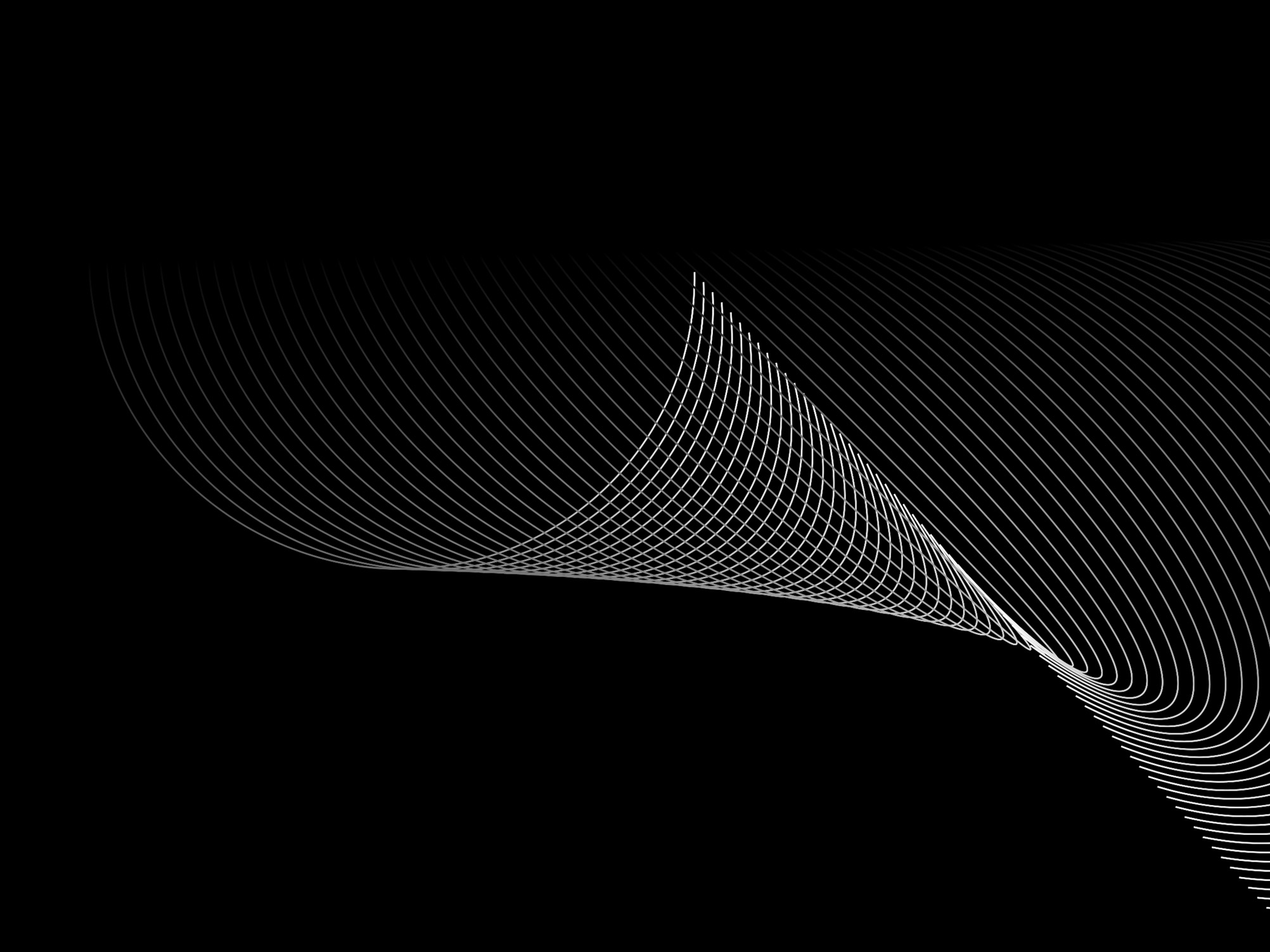 1.1 Logo
The story and use of the Sponda logo
Sponda's sharp, bold and premium logo is the cornerstone of the identity. It encapsulates many of the key elements of the Sponda brand—high quality, durability and sustainability.
The logo may only be used in black or white.
Remember not to:
→ use logo in colour
→ scale or distort the logo
→ use effects (drop shadow etc.)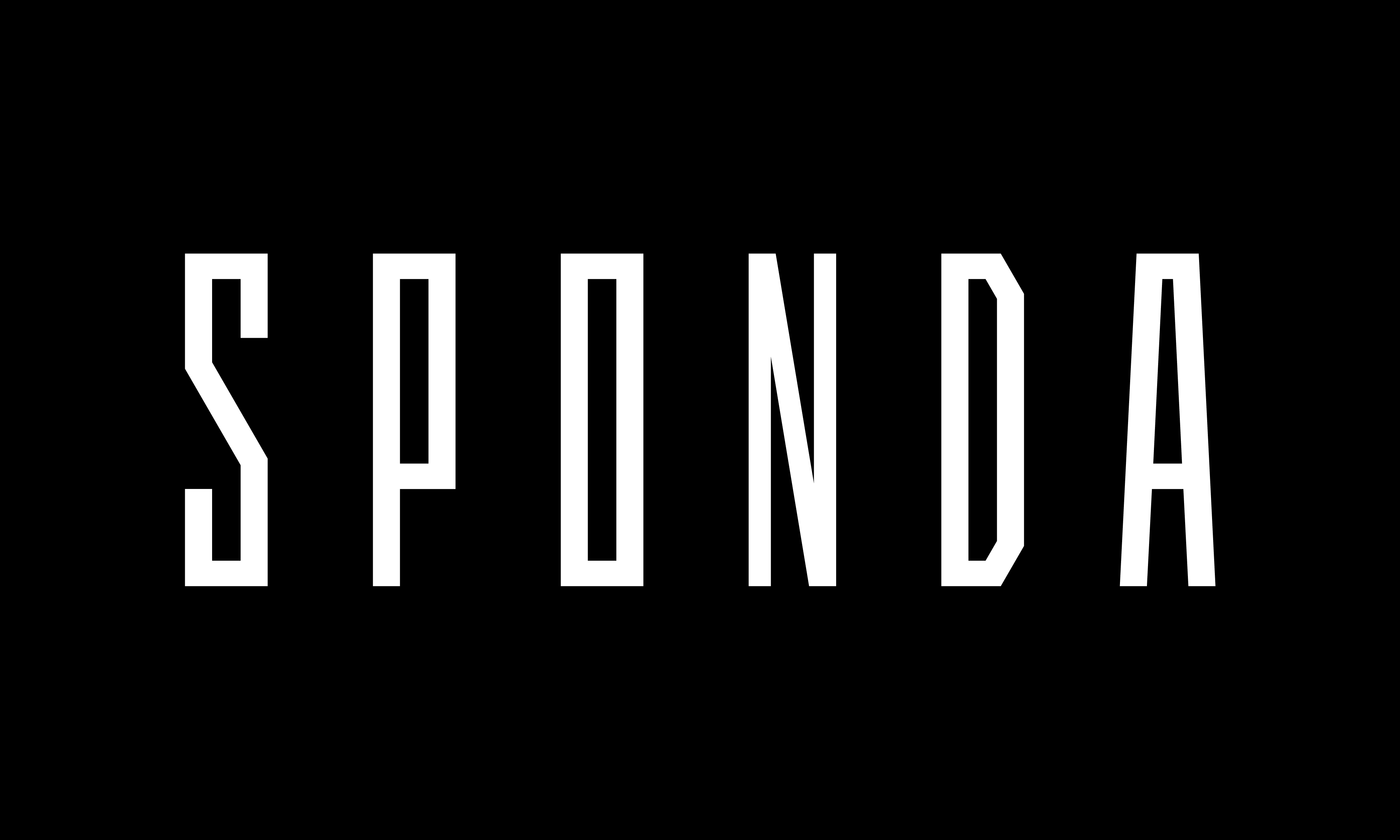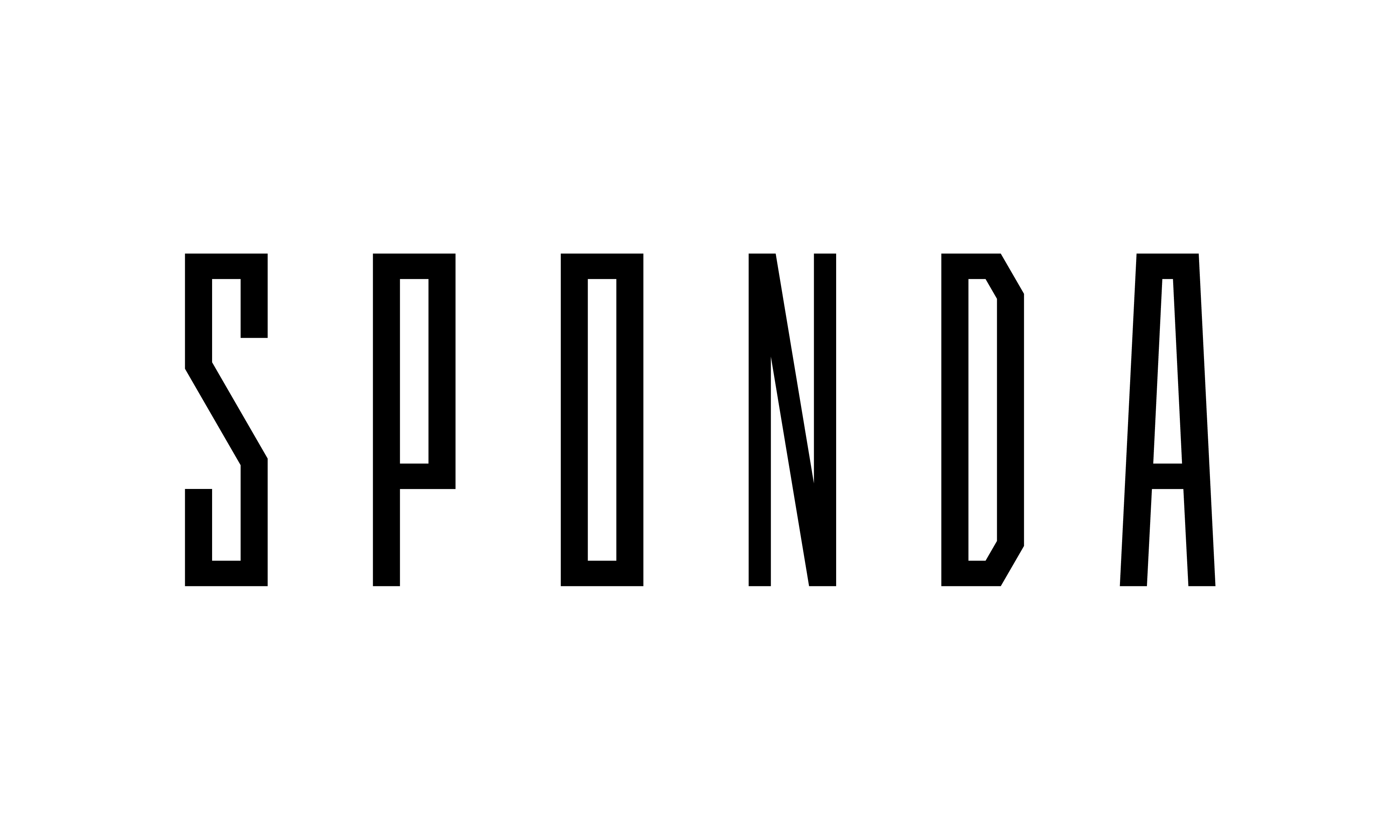 Clear space
The clear space is based on the counter of the P in the Sponda logo, as shown in the image. No other objects allowed inside this area.
Backgrounds with a solid colour are preferred. However, the logo can also be used on top of images if it is positioned on calmer, less distracting areas.

Logo Package
The Sponda logo in all its formats can be downloaded here.
1.2 Typography
The modern & elegant typefaces and how to use them
The clear and simple typography is at the very core of the identity.
Visually the Sponda language is clear, simple and respects white space. It avoids cluttered layouts and multiple weights on one page. Contrasts, if needed, can be achieved through varying type size as shown in Best Practices.
Two fonts are used: The primary choice is a modern sans serif typeface called Aeonik, which generates a sharp, contemporary look & feel to any application. Aeonik is complemented by the secondary choice Saol, a very elegant and sophisticated serif typeface bringing a premium, high-end touch in the communication.
When Aeonik and Saol cannot be used, for instance in externally-shared MS Office applications, Aeonik can be replaced by Century Gothic and Saol with Times New Roman.
Primary Typeface
Aeonik is the main font, thus having a wide variety of use cases: It works well in both headlines and body text throughout applications where credible, modern and time-lasting design is desired.
Aeonik
ABCDEFGHIJKLMNOPQRSTUVWXYZ
abcdefghijklmnopqrstuvwxyz
0123456789&%€
Secondary Typeface
Saol is a great choice for headings. It excels in applications that aim at a premium feeling, like invitations and letters.
Saol
ABCDEFGHIJKLMNOPQRSTUVWXYZ
abcdefghijklmnopqrstuvwxyz
0123456789&%€

1.3 Colours
Black & white spiced up with gemstones
All Sponda colours signal premium, high-level image. That image is especially emphasised through the darker, prestigious colours, while the lighter ones improve usability in practice.
The primary colours are Obsidian Black and Marble white, accompanied with two greys. Black is the primary choice for backgrounds on top of which the lighter elements play. That gives a premium look to any graphic application. White background works well in text-heavy applications, like presentations and reports. The two greys are also a solid option for backgrounds.
The secondary colours consist of two greens, Quartz and Emerald, and two blues, Turquoise and Sapphire. These are only used to spice up the design, never as much as the main colors.
Remember not to:
→ use secondary colours as primary colours
→ create own colours
→ change values / colour codes
Primary Colour — Obsidian Black
Primary Colour — Granite Grey
Primary Colour — Marble White
Primary Colour — Stone Grey
Secondary Colour — Quartz Green
Secondary Colour — Emerald Green
Secondary Colour — Turquoise Blue
Secondary Colour — Sapphire Blue
1.4 Icons
Custom-made iconography matching the identity
The large selection of icons can be used in a wide variety of applications from presentations and websites to brochures and reports.
However, remember not to
→ change any colours (black &
white and quartz green only)
→ scale icons unproportionally or
stretch them
→ use as illustrations
All Sponda icons can be downloaded from the link below.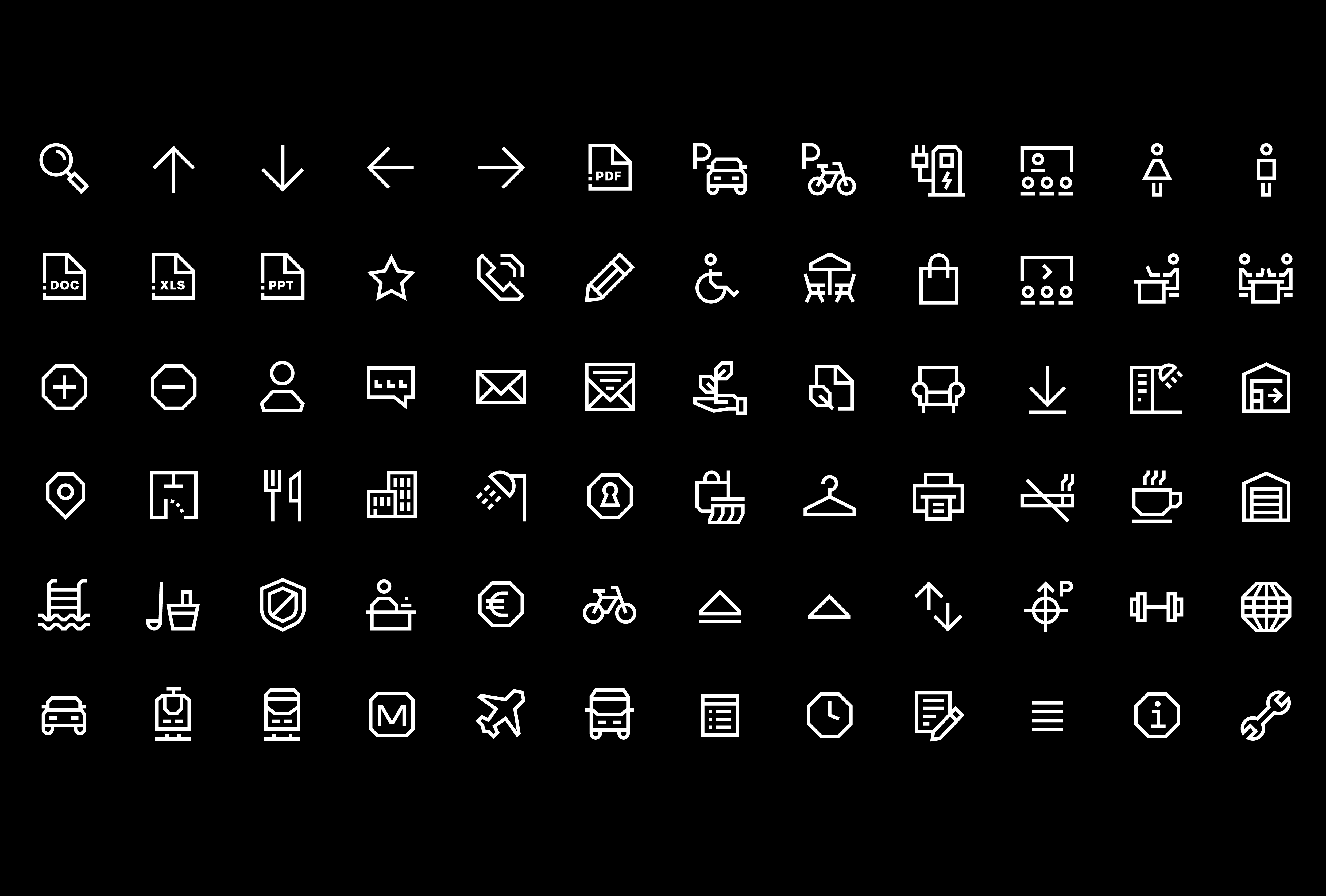 1.5 Illustrations
The two Sponda illustration styles are inspired from architecture and geometric shapes.
Illustrations are mainly used in light colours on dark background. For example, white illustrations on black background (preferred), Quartz on Emerald and Turquoise on Sapphire. Remember not to edit the illustrations or use them as patterns.
Both illustration styles serve their own purpose:
Abstract Illustrations
These illustrations are based on principal geometric shapes, The Circle, The Square, The Triangle. They can be used behind photos, as backgrounds or on their own as well as behind cut-out photos.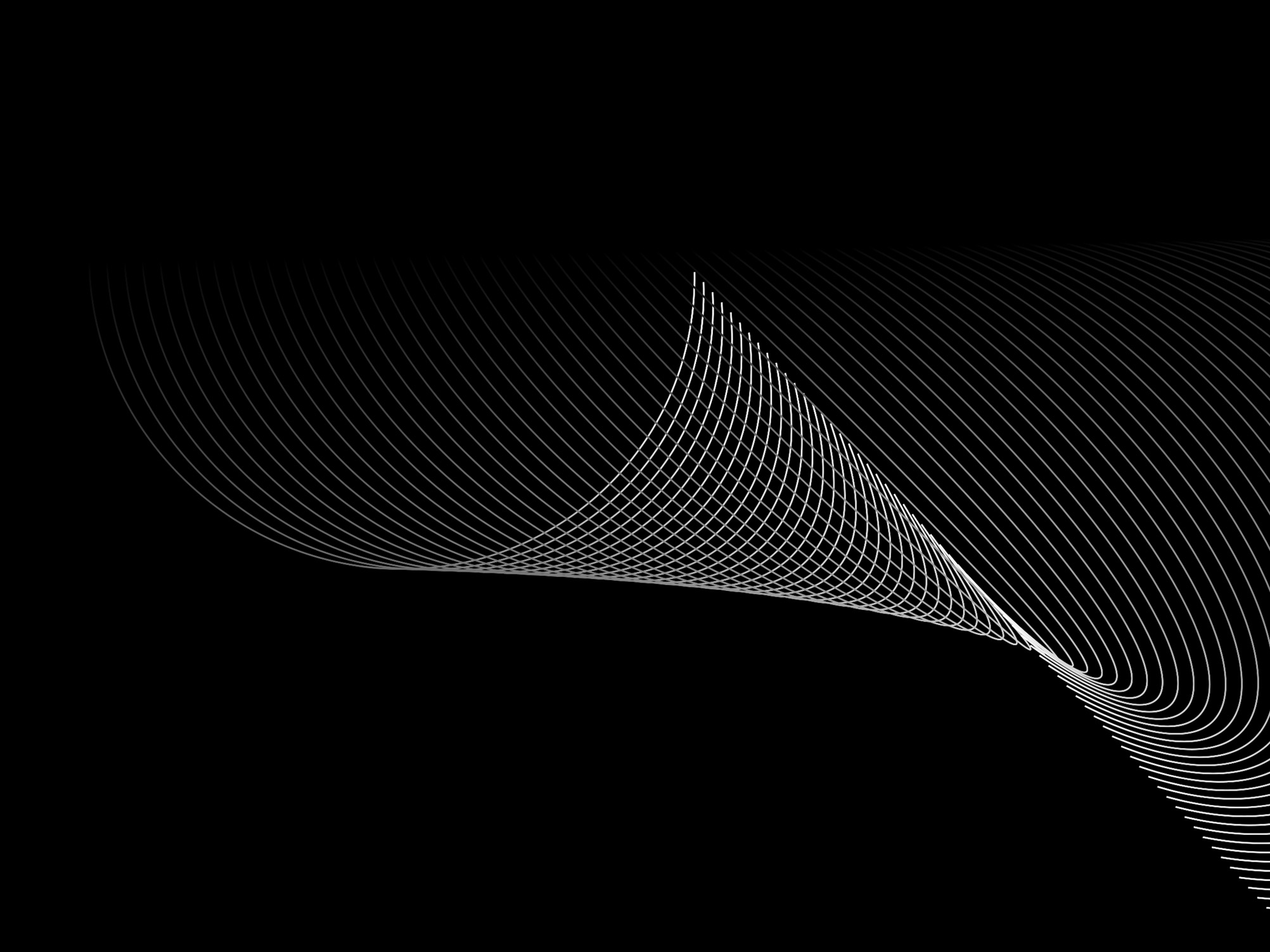 Building Illustrations
These showcase some of Sponda's real estate in an unexpected, but prestigious and inspiring manner.
These should primarily be used on black background and not be scaled down to too small of a size.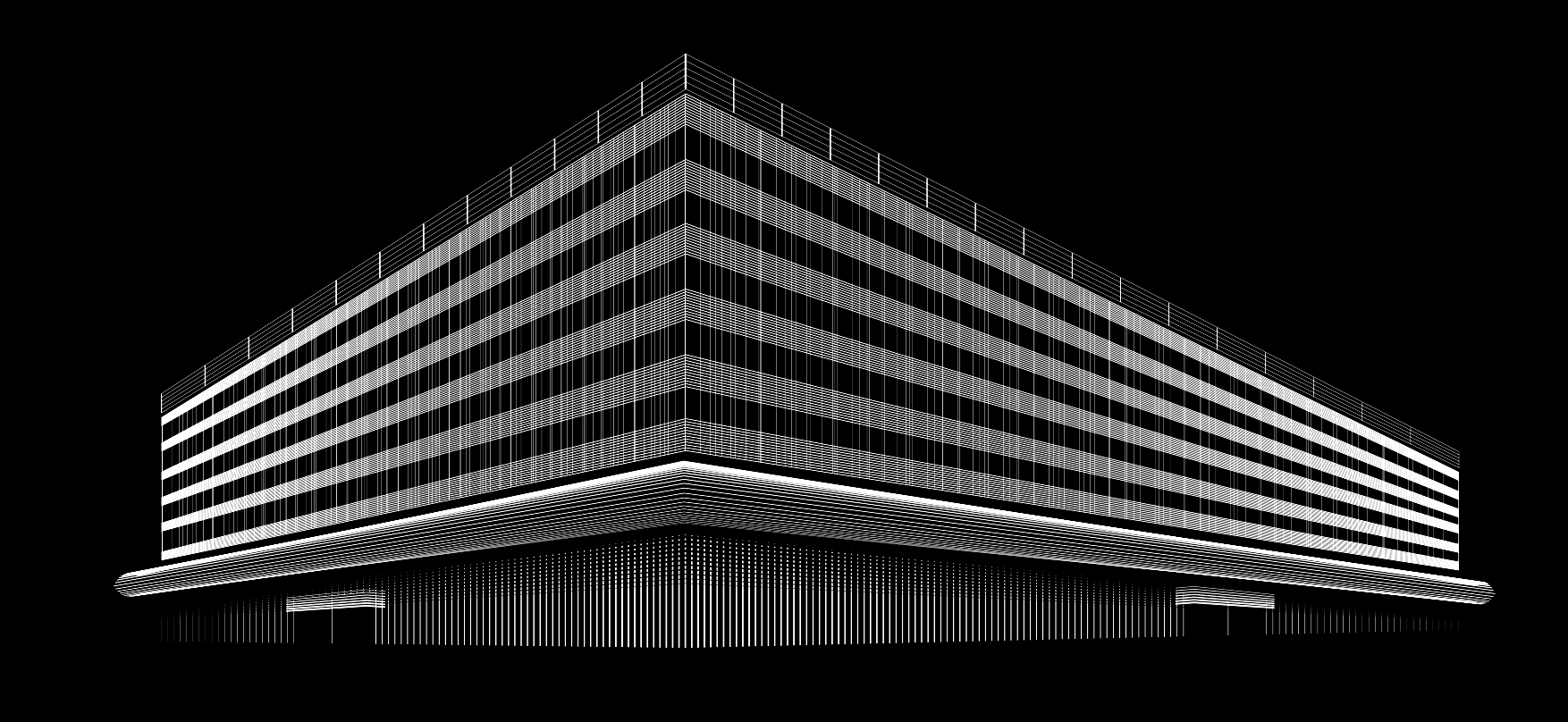 1.6 Photography
Brand photos showcasing our real estate properties
The Sponda brand photos are intended to be used in a wide variety of applications, both as backgrounds and hero images.
Remember not to
→ change any colours or tones
→ scale or stretch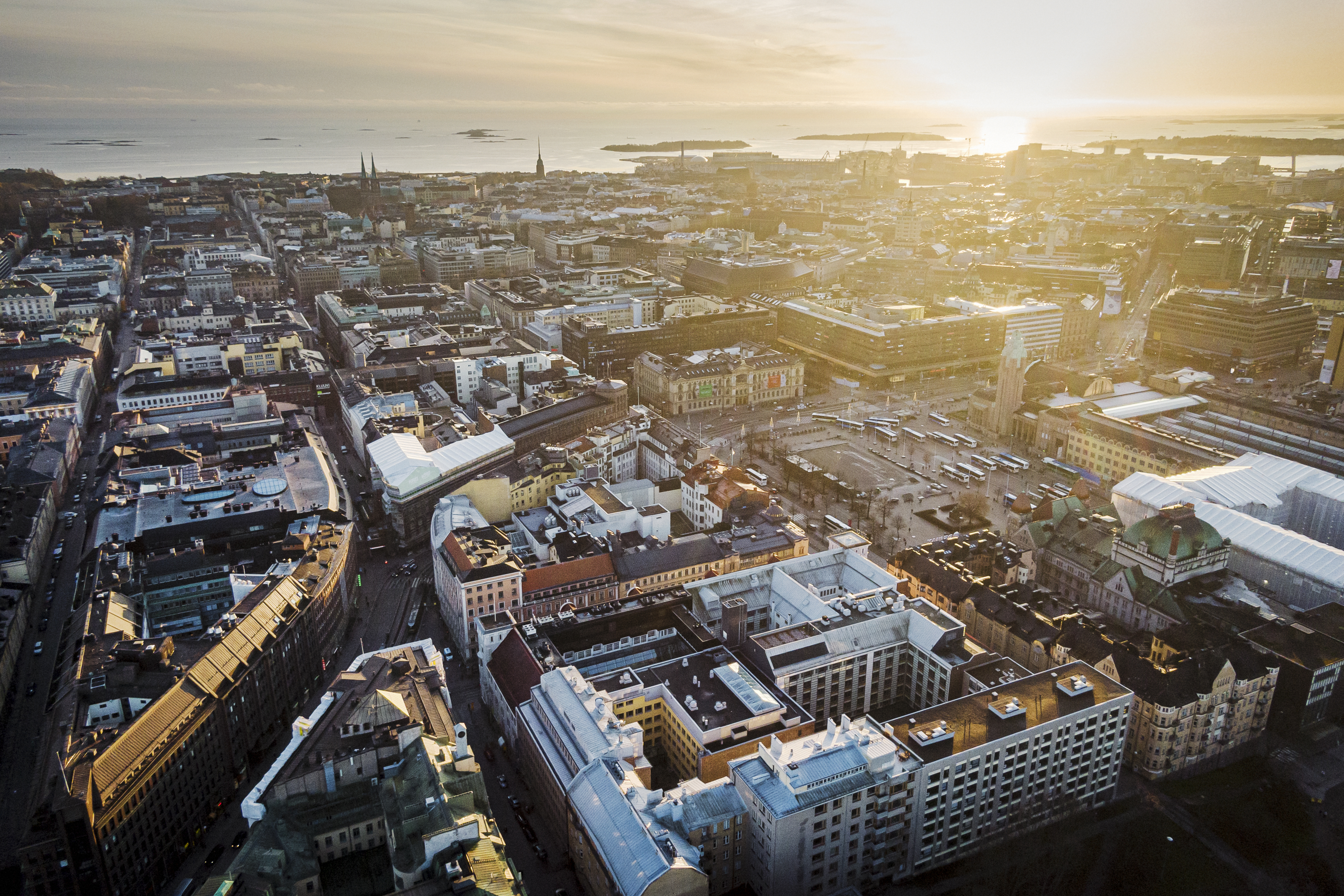 2


Best
Practices


A reference gallery of creative
applications of the identity


The Sponda brand will start to shine in the real world, when it gets in touch with people through varying channels. This gallery shows how the identity works in practice. The applications shown here are not only to learn from but also to provide a fruitful source of inspiration when letting the world know about Sponda. Take a look at the following applications:
2.1 Brand Reel
2.2 Business Cards
2.3 ID Cards
2.4 Calendar
2.5 Presentations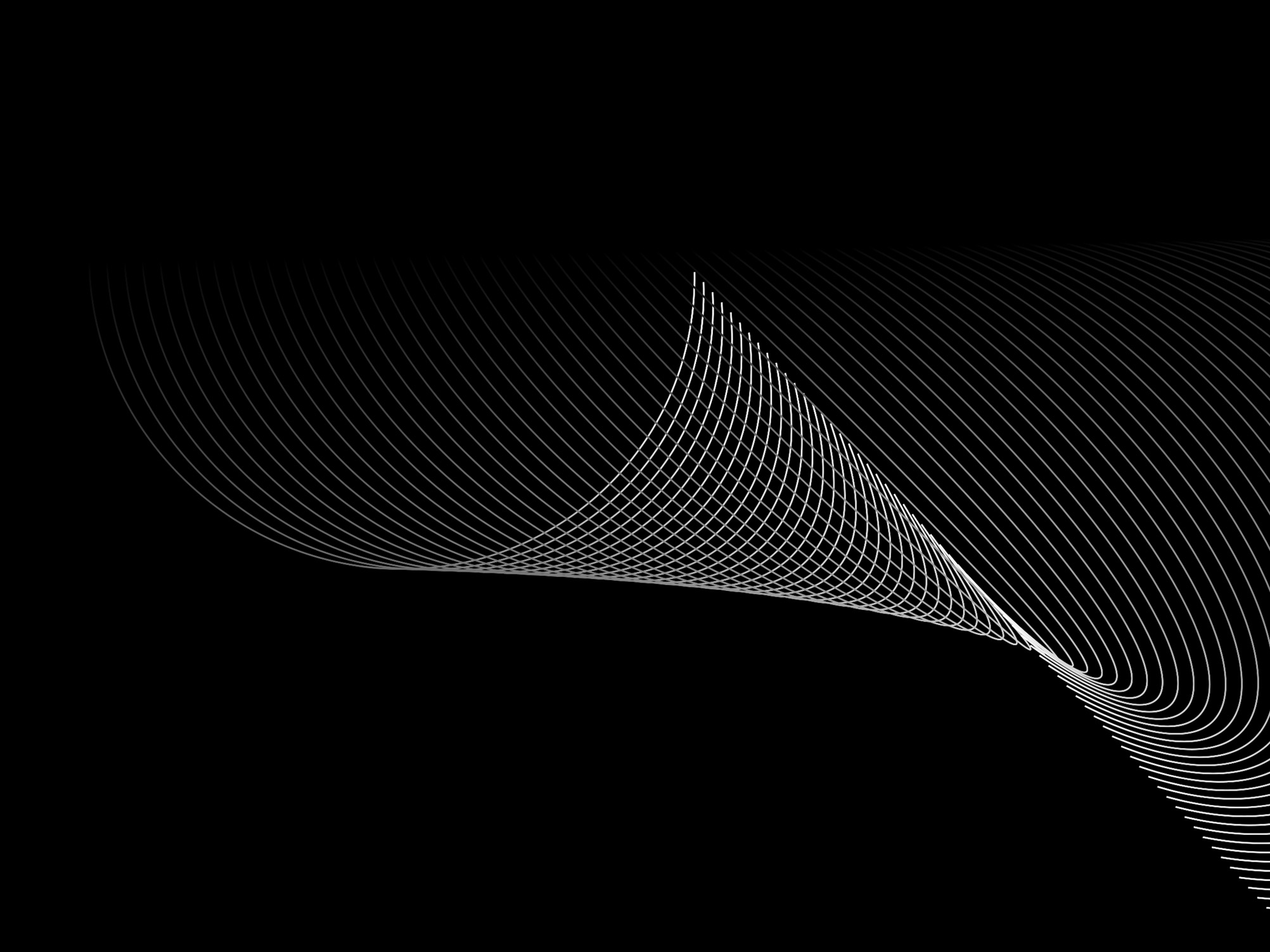 2.1 Brand Reel
The brand video to inspire, inform and stand out.
2.2 Business cards
Sponda business cards are an example of the clear and simple use of typography. They also showcase how the logo can be used as two halves, cut from the middle.
Notes
→ The logo can be used as two
halves, cut exactly from the
middle
→ Clean and minimal typography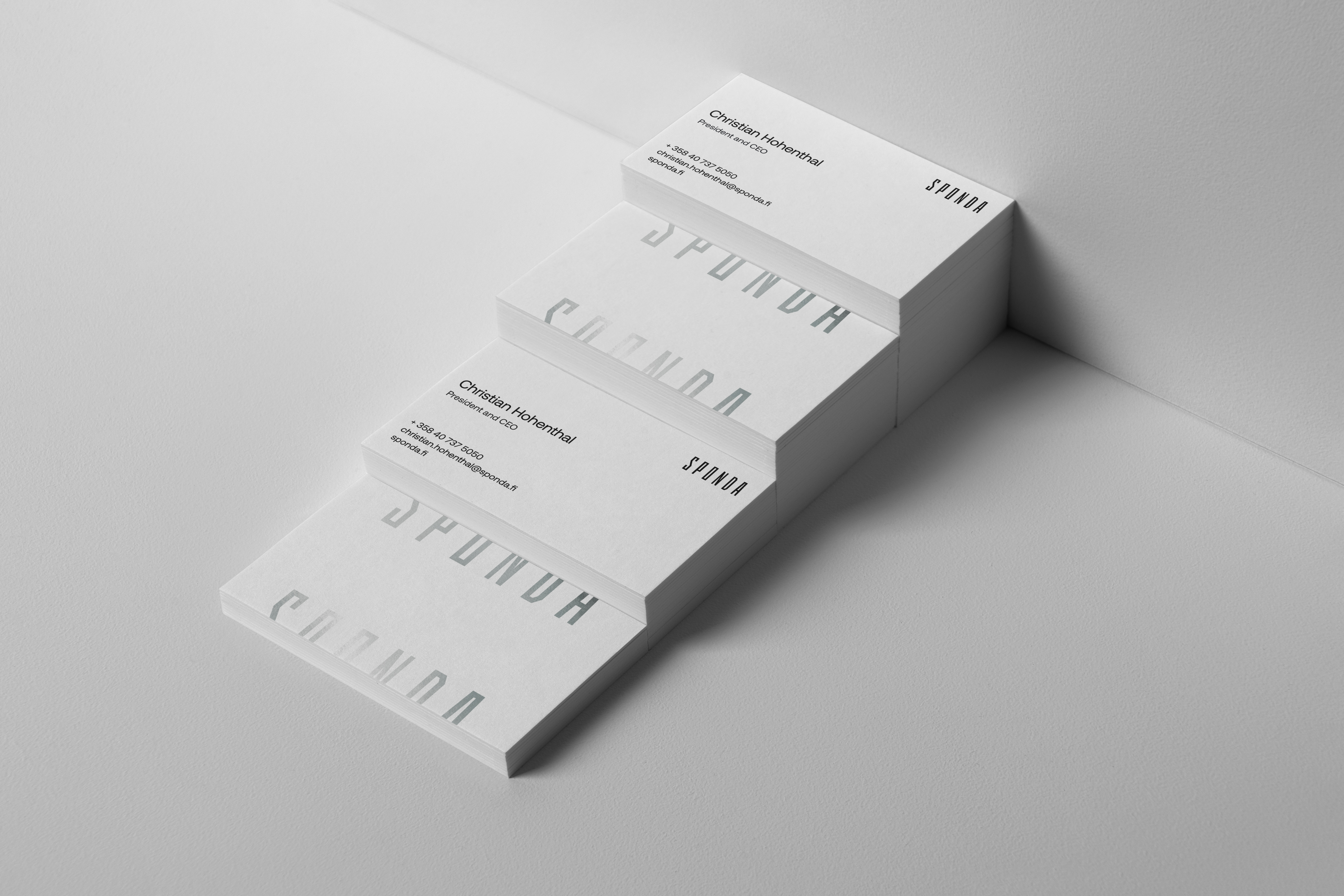 2.3 ID Cards
Sponda's ID cards use images and illustrations combined with stylish typography.
Notes
→ Illustrations behind images
→ Full width logo
→ Clean and minimal typography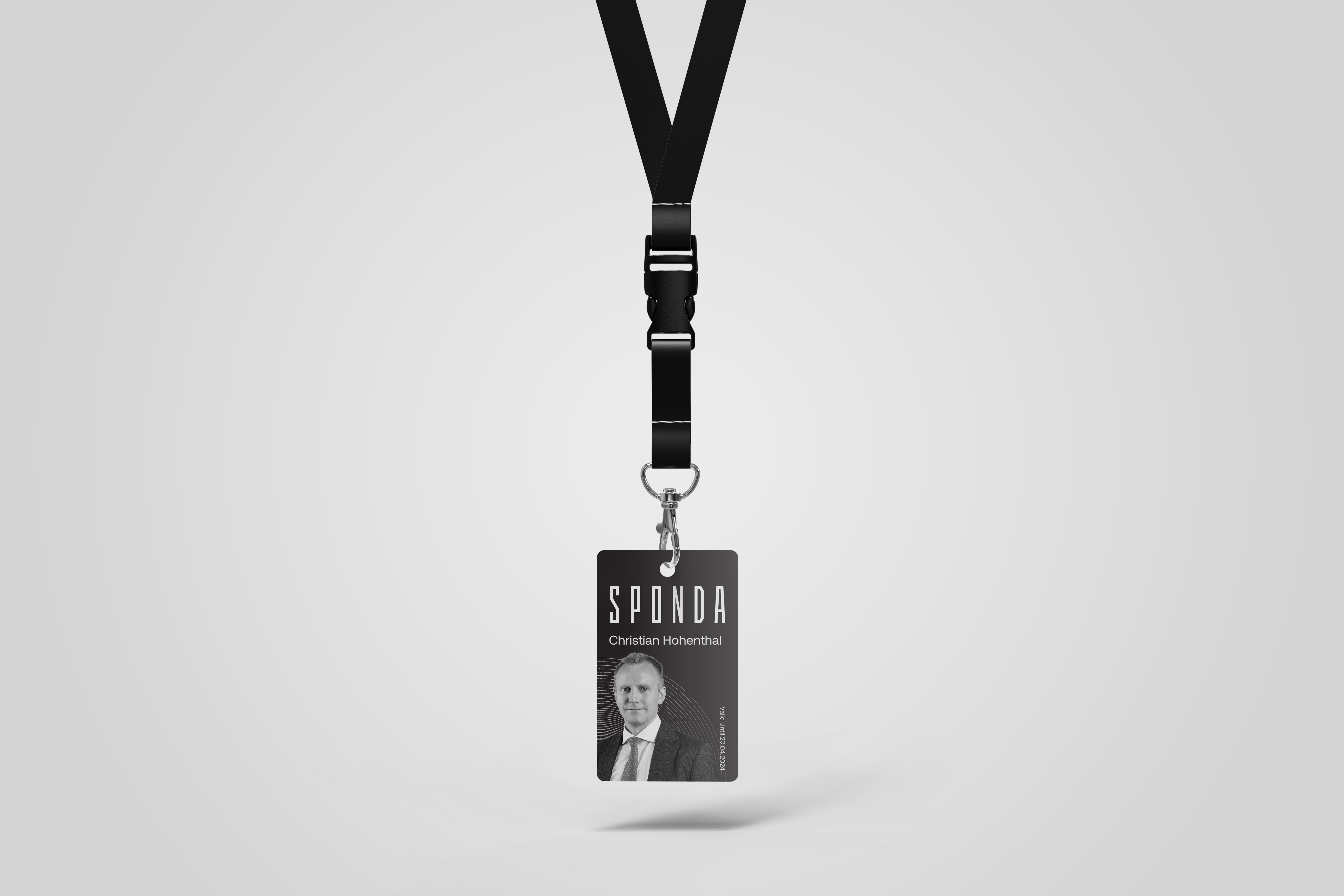 2.4 Calendar
The Sponda calendar applies the primary typeface Aeonik in a clean and minimal way.
Notes
→ Clear hierarchy
→ Aligned to grid
→ Not too many font cuts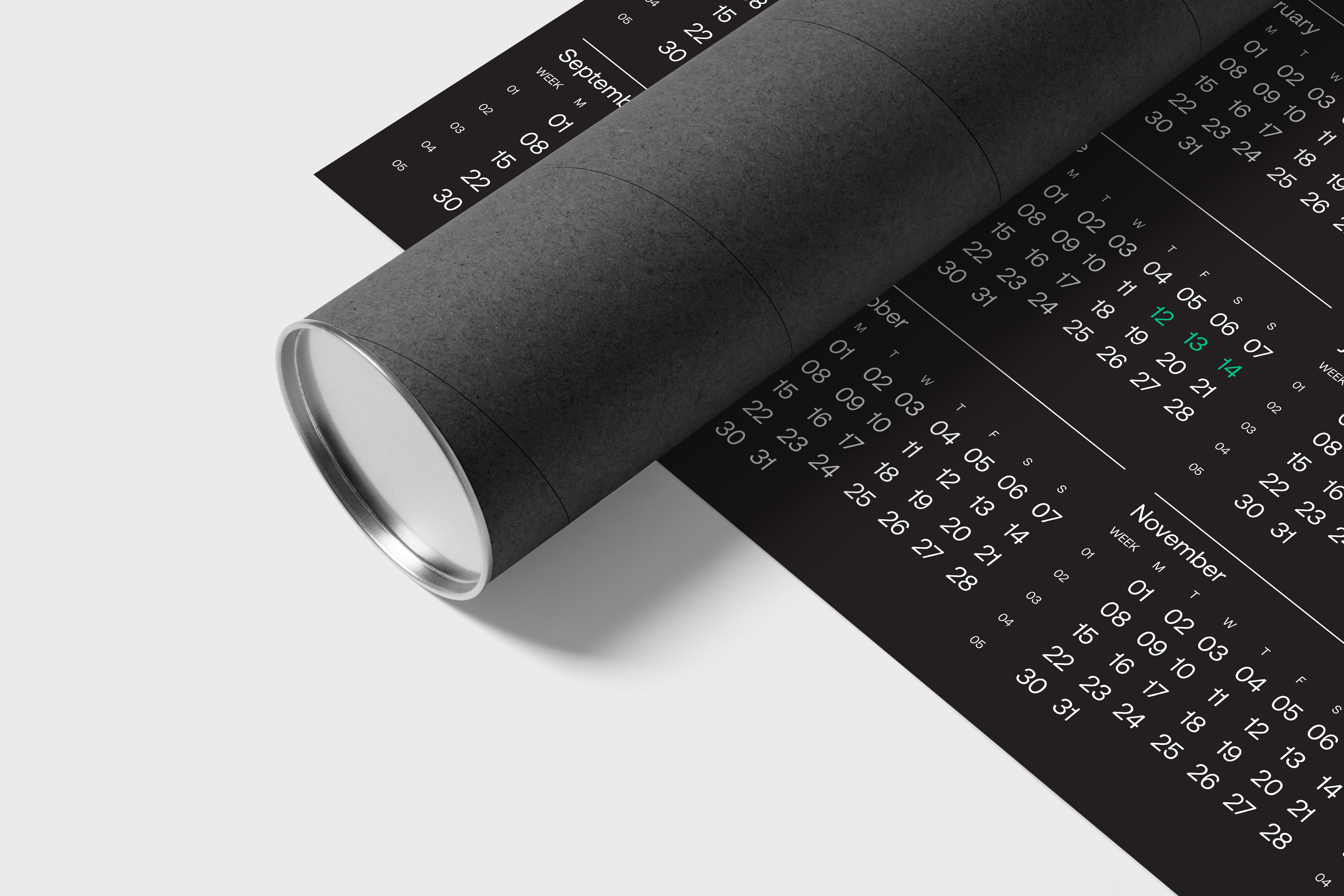 2.5 Presentations
Sponda presentations are professional, clean and trustworthy.
PPT template can be downloaded from the link below.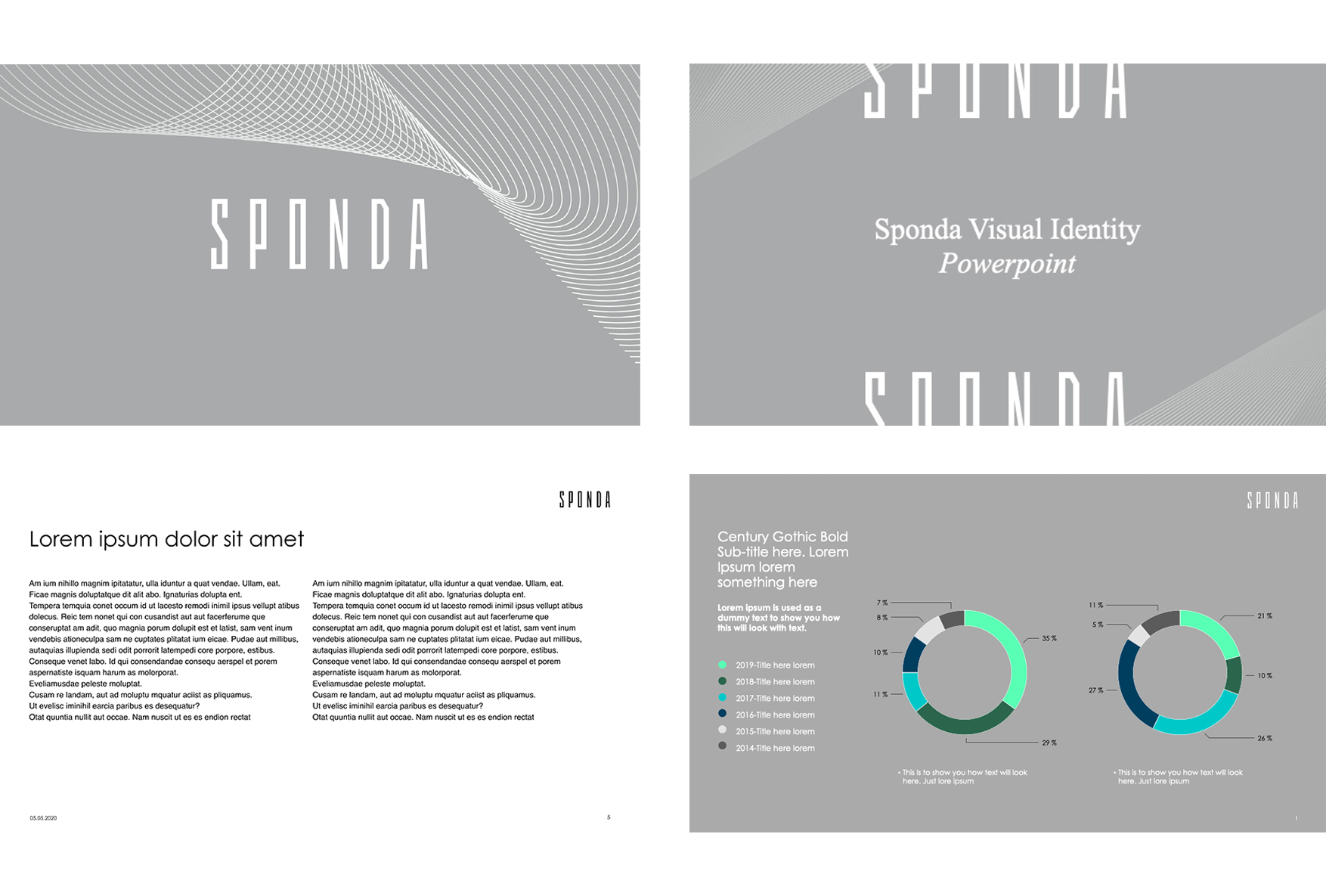 2.6 Outdoor Advertising
Outdoor advertising surfaces are excellent opportunities to emphasize Sponda's strong visual identity: Dynamic copylines, illustrations, colours, typography and imagery.
In hoardings, always include a render image of the property, if possible.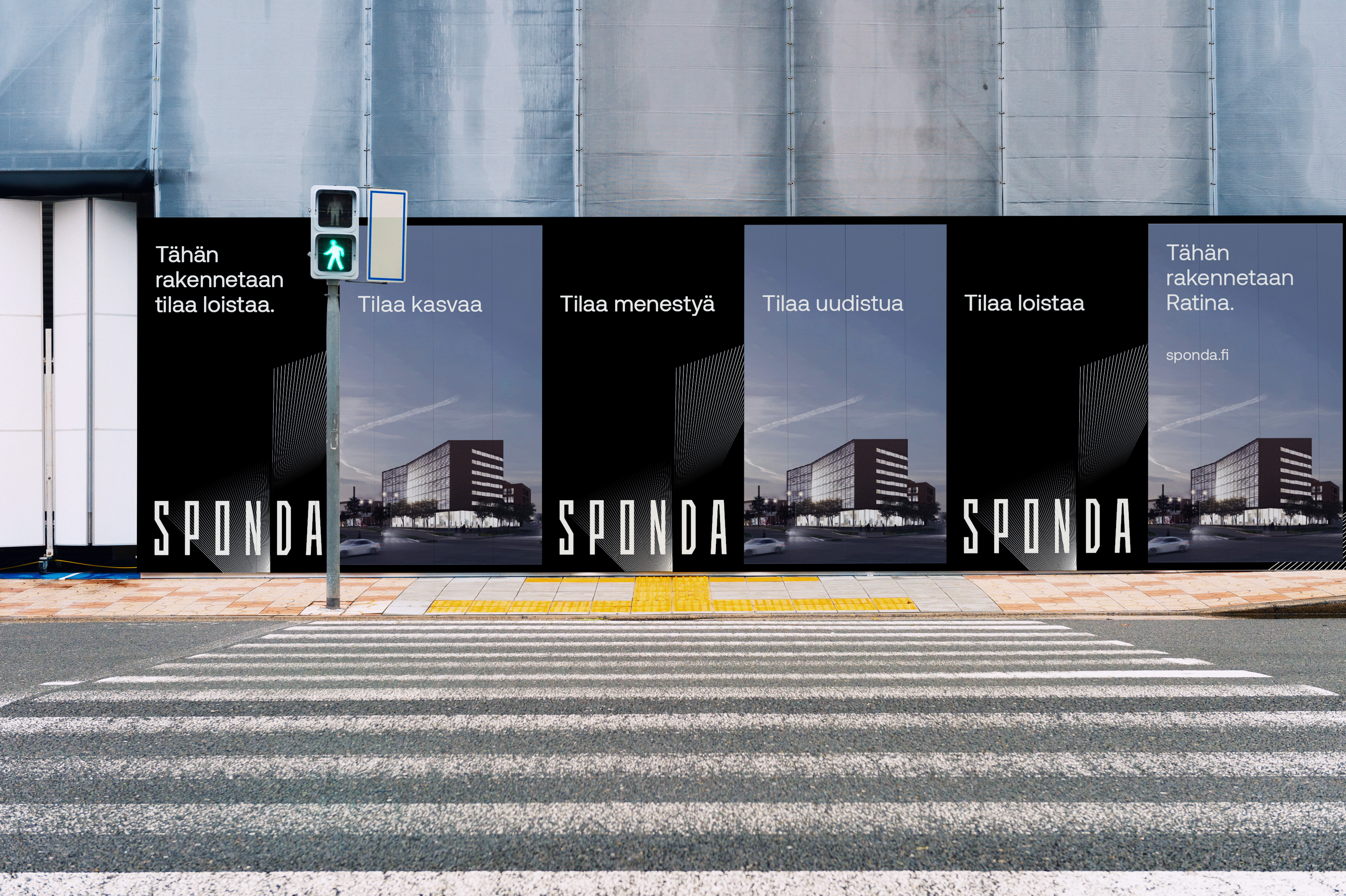 2.7 Floor plan for commercial use


One of the key elements in the business premises selection process is a high-quality floor plan. A good floor plan is visually appealing, easy to read and gives a realistic picture of the space to be rented. At Sponda, we have defined a uniform floor plan that will be used in all marketing materials.
Instructions for commercial floor plan and dwg-template can be downloaded from the link below.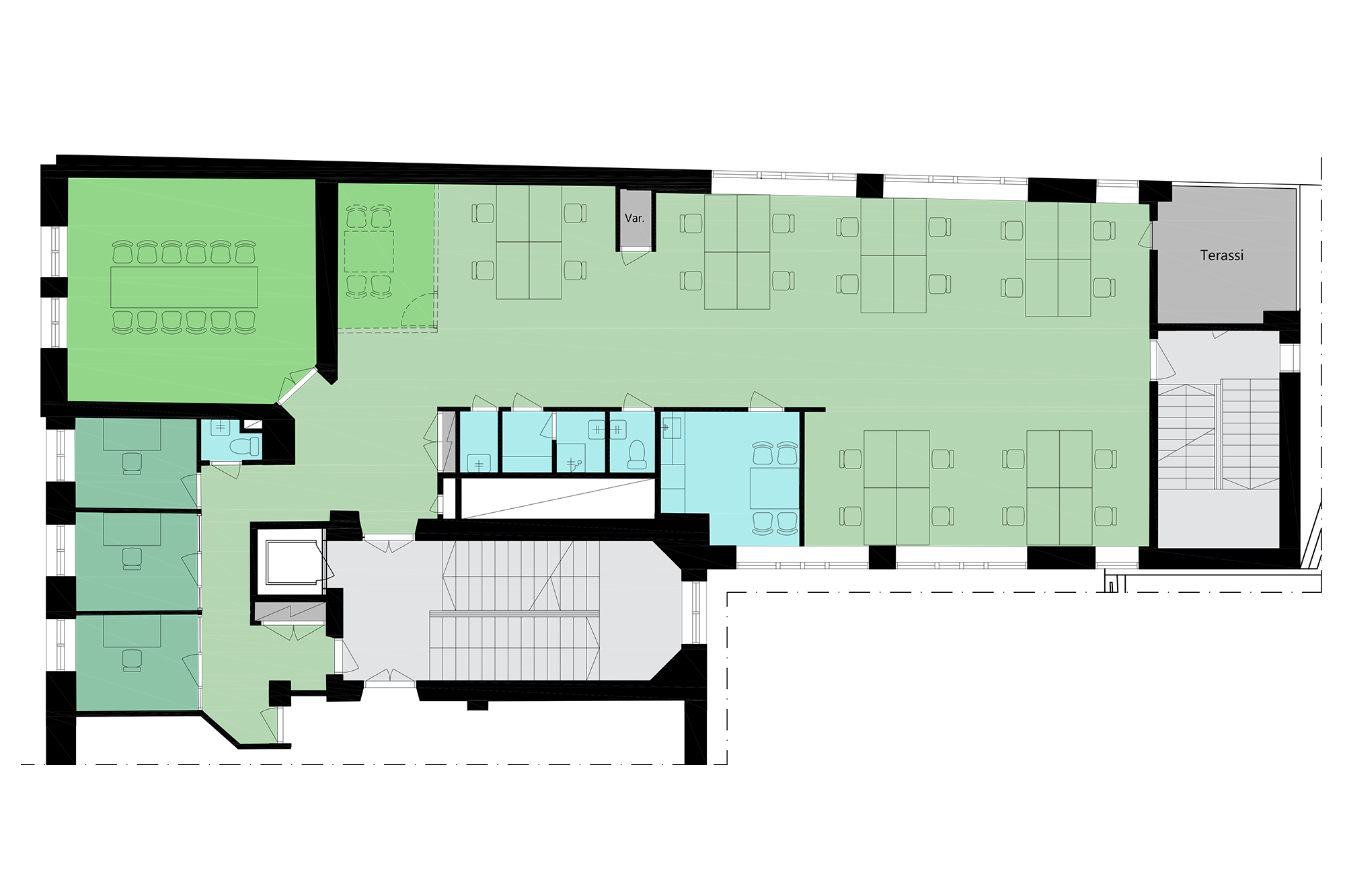 3


Brand Strategy
and Purpose


What Sponda stands for and the thinking behind the brand identity.


To make the Sponda brand shine, principles behind the brand are important to understand. Sponda's brand strategy and purpose is explained through the following, sixfold approach:
3.2 Brand Purpose
3.3 Brand Narrative
3.5 Brand Drivers 3.1 Brand Positioning
Why we do what
we do and how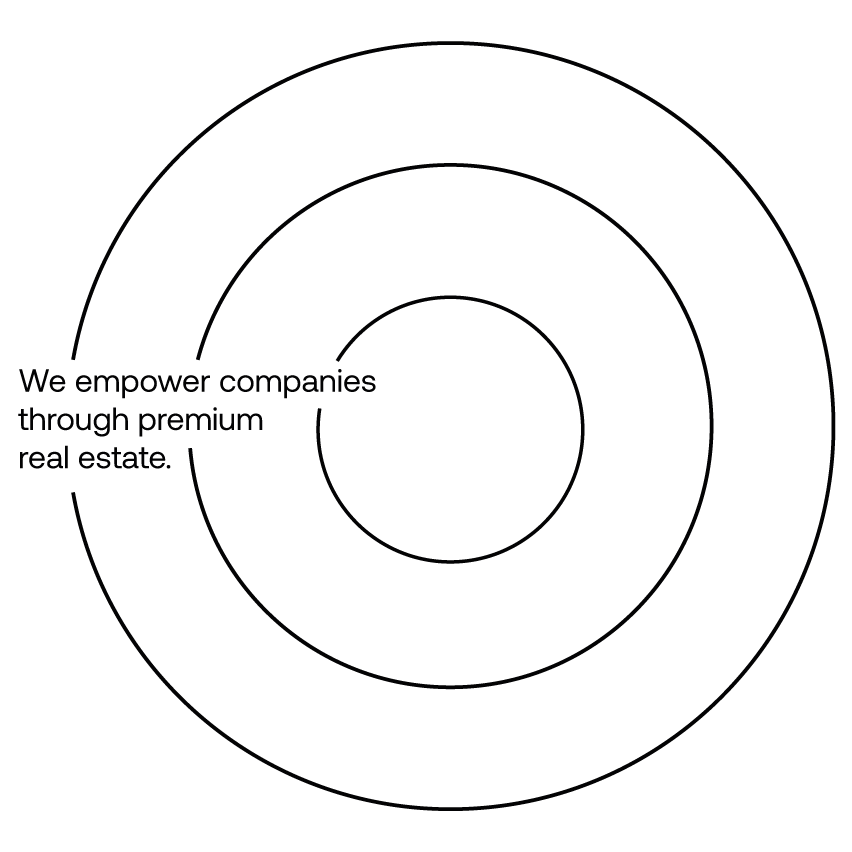 How
→ We are leaders in empowering companies. We go the extra mile for our customers, communities, and sustainability and build long-term connections with our partner cities.
What
→ We operate and develop premium real estate. We create innovative work environments, vibrant retail experiences, and mixed-use urban ecosystems.
Why
→ We exist to develop and cultivate inspiring spaces that foster and amplify our customers' ability to do business, to succeed.

3.2
Brand Purpose
Crystallizing our 'why' in an inspiring way
From positioning to inspiring brand purpose:
→ We are a purpose-led brand that delivers experiences and financial outcomes.
→ We deliver experiences and services that amplify our customers' ability to do business, to succeed.
→ We are professionals who empower our customers' businesses through premium real estate.


Our purpose is to give our customers the
Space to Shine
Tilaa loistaa


"Space to Shine" is about us giving our customers the front seat, the leading role, making them the headline act. We give them the space to grow. To connect. To succeed. To shine.
Space
→ The simplest way to say what we do.
to Shine
→ Memorable and unexpected way to talk about success. A creative platform for brand and marketing, but not a tagline. A crystallisation to inspire us. A headline used selectively in brand communications.


Space to Shine
Succeed
Grow
Thrive
Create
Connect
Start
Perform
Excel
Stand Out

3.3
Brand Narrative
Telling an inspiring story about our brand
Space to shine
In a competitive world,
we lift you up.
Spaces in premium locations across Finland's principal cities with tailored service offerings and built to the highest environmental standards, all of which makes business easier and simpler.
No matter if you are a small retailer, startup, or multinational corporation, we provide you with the Space you need to Shine— the Space you need to generate success for your business.
We are the benchmark for the empowerment of businesses through premium and sustainable* real estate and related services.
*GRESB 2019

3.4 Value Propositions
What our positioning and purpose mean in practice
How Sponda Delivers "Space to Shine" to Our Tenants
Core Message
We provide the facilities you need to operate and build your business: functional premises you can make your own, premium locations you can grow and thrive in.
Proof
Examples of locations, both offices and retail. Make our tenants shine.
Point of View
We believe that, by owning and operating only the very best business locations across Finland, we can best serve ambitious companies. Be they big or small, they are the very foundations of the entire Finnish economy.
How Sponda Delivers "Space to Shine" to Our Employees
Core Message
Together we aim to provide the perfect platform for every person to meet, show, and maximize their true potential.
Proof
Make our staff shine. Praise small successes, celebrate huge ones, and give credit to everyone who embodies the essence of Sponda.
Point of View
On our path to a premium position, our essence is attracting staff, nurturing them, and giving them the space to be the very best they can be. By taking care of each other and empowering each other, we also take good care of our business.
How Sponda Delivers "Space to Shine" to Our Partners
Core Message
We value our partners and make it easy for them to succeed in their partnership with us. That is why the very best work with us. We support those who represent us, day in and day out, helping them to succeed in their own right.
Proof
We succeed together through long-term partnerships. We appreciate and understand each other as both people and companies. By succeeding together, we lift our partners to the top.
Point of View
We know our success is founded on empowering our key partners to succeed. Our portfolio is second to none. But that's not enough. We work together with our partners to provide them with the right tools to make their job easier.
How Sponda Delivers "Space to Shine" to Public Institutions
Core Message
Point of Viewmmunities we work in first. We aim to build better cities and work with public institutions to create urban spaces where communities can thrive, sustainably.
Proof
Examples of partnerships with local institutions. Examples of specific projects where we have influenced policy for the better in the past.
Point of View
We are custodians of some of the most important real estate in Finland. We understand we must work in close cooperation with public institutions to ensure everything we do considers the society and stakeholders around us.

3.5
Brand Drivers
How we behave as a brand
Brand drivers are principles to guide our efforts in building the Sponda brand, making it stand out and succeed.
We build a premium image.
We let our customers shine.
We go the extra mile to create innovative experiences.
We make sustainable choices.
3.6
Brand Architecture
How we organise our assets into brands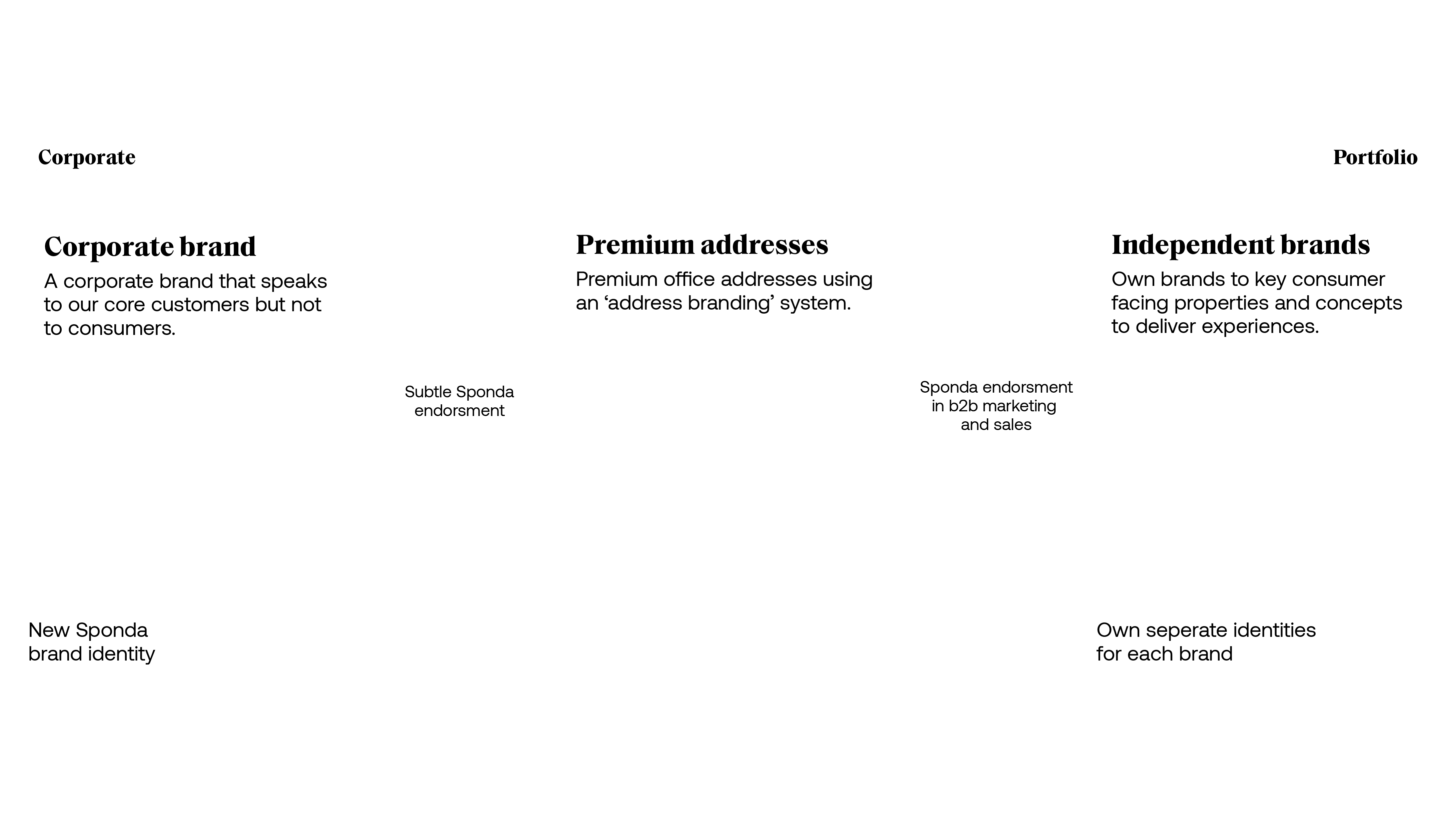 Sponda © 2020 | Updated 05 / 2020