NextUp Brandbook
Updated 2022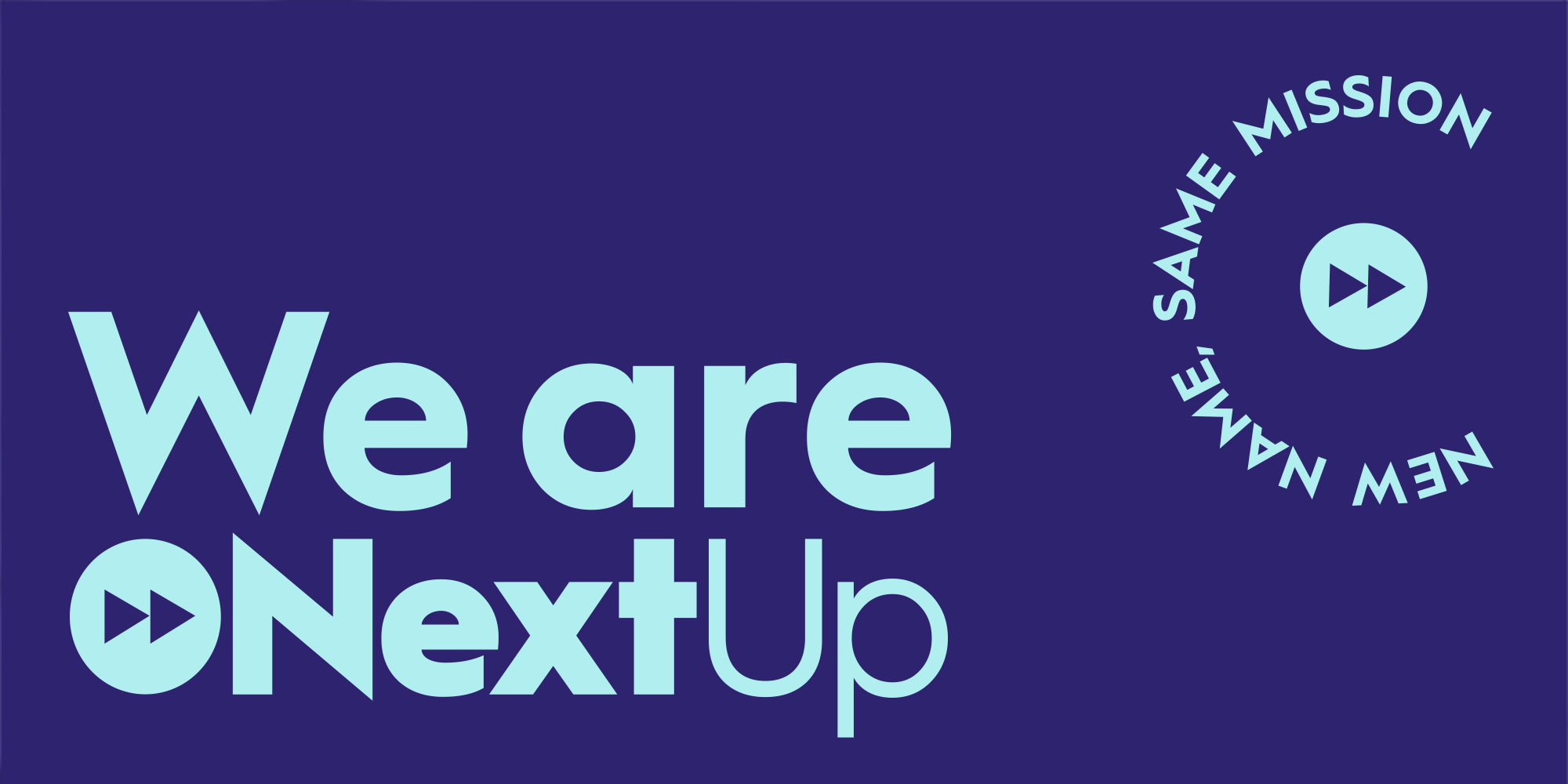 We are NextUp
Same mission, new name, elevated brand.
Welcome to our next chapter. Network of Executive Women is now NextUp.
While our brand has evolved, our mission to advance all women in business remains stronger than ever. Why evolve now? Put simply, the world around us has changed in the 20 years since we began. Women have defined endless new pathways to success and DEI&B solutions are needed more than ever. To truly advance all women now and in the future, we evolved our programming, expanded partnerships, and elevated our community to be even more inclusive—and our name and brand needed to reflect this.
This brand book offers guidance as we begin to communicate as NextUp both visually and verbally. Consistency is essential for any brand, but particularly for our reintroduction. Please refer to this brand book when creating any communications for NextUp, either internal and external materials. And check back often. Like any good brand story, ours will build and evolve over time.

01 Brand logos
Our logo is the graphic representation of who we are as a brand and a company. It is only to be used in the ways described here with acceptable variations. We have two primary logo types—with our tagline and without. The logo with tagline lock-up is preferred when it lives in a larger format, and particularly where more context is needed. It should only be used when proper scale is possible, per guidelines.
Primary logo with tagline—Royal Purple
This is our primary logo. Use the tagline version where it can be scaled large enough for tagline readabilty. The Royal Purple primary logo with tagline is ideal in traditonal brand communications as well as communications where we want to feature our mission prominently.
One-color usage―Brand black
Always favor the Brand black logo against a simple and clean light backdrop.
One-color usage―White on brand black
This logo may also be used on when placed on a clean, legible photo background.
Alternate usage logo options
Let's play with color! Several alternate logo options with color pairings are available to bring the energy of our brand to life. These alternate logo options and color pairings are ideal in marketing communications created by a graphic designer, such as social media assets and digital and print advertising. Use only these combinations and do not mix and match color options.
Alternate usage―Aqua on royal purple
Alternate usage―Bright purple on aqua
Alternate usage―Royal purple on soft purple
Alternate usage―Brand gray on bright purple
02 Logomark
The Fast forward icon is part of the NextUp logo lockup but can also be used on its own in any brand color or transparent overlay. It should never be rotated. The arrows should always be pointing to the right.
Fast forward icon in royal purple
03 New name stamp
A "New name, same mission" stamp was created to promote our brand transformation and can be included on marketing materials that communicate the transition to NextUp. The lockup should only be used on a solid color background in the approved color combinations listed above.
New name, same mission stamp
04 Region logos
Region logos were created to be used specifically for region communications, including social media and event promotion. For these communications, the region logo is preferred over the brand logo. A full color in Royal Purple as well as one color in both black and white are available for use for each region and can be downloaded below. Please follow the usage and placement guidance outlined for the primary logos above.
05 Colors
Our palette is supportive. To maintain focus and priority on the substance of our message, subject of our photography & benefits of our programming, the NextUp color palette is intentionally selected to be complementary to those key elements.
06 Typography
Our typographic style has been developed to deliver our work and communications with clarity, objectivity, and conviction.
All of our communications―from internal documents to client-facing presentation to blog posts for the public to see―should be concise and scannable.
Primary typeface―Hurme Geometric Sans
Used for headlines and website buttons
Hurme Geometric Sans No.1 & 2 includes seven weights with true Small Caps and obliques. Alternate characters and other Opentype features make for a versatile family that can be adjusted for specific needs. Hurme Geometric Sans No.1 and No.2 are essentially the same fonts, but with different sets of characters set as default.
Secondary typeface―Charter
Used for body and descriptor copy
This typeface is also known as Bitstream Charter. The styling of this typeface is totally based on Pierre-Simon Fournier's characters and you can easily found this styling in the 18th-century typefaces like futura font.
This typeface is originally designed so that it can be used in the printing of low-resolution designs that are of around 300 dpi in the 1980s but now it is really suitable for every type of printing design.
Alternate headline typeface
Use Montserrat Extra Bold when Hurme is not available
Websafe Typeface―Source Serif Pro
Use when Charter is not available.
Photography Guidelines
01 Photography style
Photography should represent the diverse NextUp community and showcase a range of women and male allies across age, ethnicities, and career stages. High-quality, high-resolution, active photography featuring NextUp members, leadership, staff, and partners should be prioritized over stock imagery.
In certain cases, portraiture may be appropriate (such as bios), and in this case, professional photography that captures emotion and authenticity is preferred.
02 Photography dos and dont's
Imagery should not be too busy and should have a strong focal point.
Subjects should not compete with legibility of type when content is overlaid.
Do not use low-res photography or clip art.
While full-color photography is preferred, black and white photography may be used for portraiture, such as speaker or team member head shots.
03 Strong design executions


Verbal Guidelines
Just as with our visual guidelines, it's important that we approach language
and written communication according to these standards to ensure brand impact and consistency.
Voice and tone
It's not just what we say, it's how we say it. NextUp's voice and tone encapsulate how our brand's personality comes across and is expressed emotionally.
Whenever and however we communicate, NextUp is:
Dynamic
We speak with passion, enthusiasm, and a boldness that shows that we're going places—together.
Conversational
We spark and engage in meaningful dialogue, fostering authentic connection through optimistic, friendly communication.
Empowering
Our words have power, and we celebrate this fact by using punchy, actionable language to rally around our cause.
Inclusive
We use positive language that acknowledges and uplifts diverse viewpoints and experiences.
Expert
We speak with the confidence that comes with expertise, taking our role as a leader in the DEI&B space seriously and providing solutions at every turn.
Tagline
Advancing all women in business
Mission
Advancing all women, growing business, and transforming our workplaces through the power of community.
Vision
Our vision is what the world looks like when we've achieved our mission.
A professional world where equity has been achieved and women have seats at every table. Our community is thriving more than ever, as women make a substantial impact on their companies' success and reach their career goals in record time.
Purpose
Our purpose states why we exist.
NextUp exists out of necessity. Even as gains are made with women in leadership, new challenges emerge, and our mission has yet to cross the finish line. When women are learning and leading, they are not leaving. NextUp will make our vision into reality – a world where women have equal opportunities at work, and equal opportunity to build their lives and careers exactly the way they want them.
Boilerplate
Think of this as our mission, 'About NextUp' and some flavor all wrapped up together in a convenient elevator pitch.
Shorter version (218 characters)
NextUp is dedicated to achieving gender equity in the workplace and advancing all women in their careers. Our nonprofit organization is a powerful community of professional women, their allies, and corporate partners.
Longer version (525 characters)
For over 20 years, NextUp has been bringing professional women, allies, and corporate partners together to champion gender equity and advance all women in their careers. Together, we are a powerful, growing community of 15,000 members and 300+ regional and corporate sponsors. We work to create leadership opportunities, amplify women's voices in the workplace, and ensure that all women in business can seize opportunities in the now and in the next.
Written Style Guide
Use these word styles when writing about NextUp.
NextUp
Always written as one word with capitalized "N" and "U." Our name should never be used as "Nextup," "Next Up" or any other variation.
Network of Executive Women
Moving forward, only use Network of Executive Women or NEW when referencing to the name change (i.e., "NextUp (formerly known as Network of Executive Women)...")
members or ambassadors
Should always appear lowercase, for example, "NextUp members."
Questions?
Reach out to us at connect@nextupisnow.org with any questions on how to bring the NextUp brand to life. Thanks in advance for helping us tell a consistent brand story!