DecideAct
Brand Guidelines
Updated August 7th 2022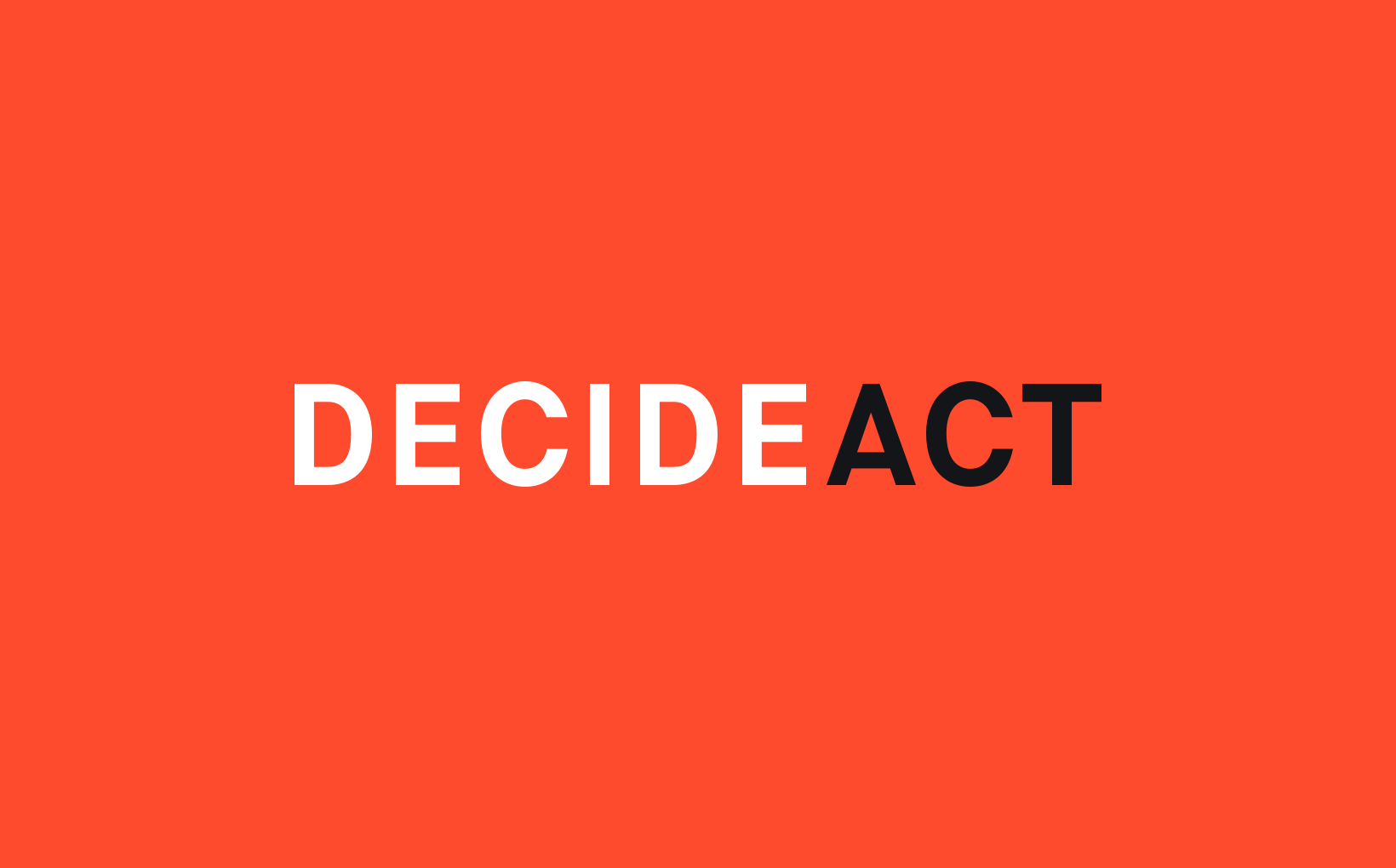 With a vision to modernize leadership through technology, DecideAct has developed a cloud based platform for Strategy Execution. The mission is to transform strategy into action.
We do this by engaging your entire organization in reaching your business goals.
With DecideAct organizations of all sizes in the entire world can 'Make Strategy Walk The Talk™'.
DecideAct is all about decisions and actions.
Our brand story 'Make .... happen' inspires people to make bold decisions and act on them.
Because nothing happens until something moves.
Vision
Modernize leadership through technology
Mission
Transform strategy into action
Value proposition
Engage the entire organization in reaching the business goals
Balance
We seek balance to grow and realise our full potential.
Balance is not a "set it & forget it" condition, but a series of small adjustments.
We're aware about making these adjustments while they're still small.
We meet the world with an open mind and embrace diversity.
Integrity
We are sincerely interested in helping our customers make an impact.
Honesty is our most important tool when things go wrong.
We stick to our values and dare to walk away if things don't feel right.
Courage
We are unafraid of stepping into the unknown and unexplored.
We take risks and make bold decisions to stay ahead of the curve.
We have the courage to say yes or no with absolute clarity.
Logo
Our logo is the most visible element of the DecideAct identity, a bold and and instantly recognisable signature across all our communications.
Primary logo
Base image: Negative on orange
Hover image: Negative on black
Monchrome logo
This should onlye be used if it is not possible do display the primary og negative version of the logo.



Clear space
The clear space ensures the legibility and impact of the logo by isolating it from competitive visual elements such as text and supporting graphics.
The clear space is equal to the height of the D in the logo.
This clear space should always be considered the absolute minimum safe distance; in most cases, the logo should be given even more room to breathe.

Logo for SoMe
To make the brand stand out we only display the capital letters of the brand ( DA ) when used on social profiles, as the full brand name always will be shown right next to the social profile image on all social platforms.
Always use orage background with black D and white A.


The official DecideAct font is FF Good.
This typeface is used on printed materials, digital advertising, social
media, website and product platform.
We use the font in the weights Bold and Regular.
The font is available through Adobe Creative Cloud.
H1 / 48 px
ABCDEFGHIJKLMNOPQRSTUVWXYZ
abcdefghijklmnopqrstuvwxyz
0123456789
H2 / 40 px
ABCDEFGHIJKLMNOPQRSTUVWXYZ
abcdefghijklmnopqrstuvwxyz
0123456789
H3 / 32 px
ABCDEFGHIJKLMNOPQRSTUVWXYZ
abcdefghijklmnopqrstuvwxyz
0123456789
Body text / 20 px
ABCDEFGHIJKLMNOPQRSTUVWXYZ
abcdefghijklmnopqrstuvwxyz
0123456789
Make strategy walk the talk
Strategy Execution Management
Make your strategy happen
Type hierarchy (Plain Sans Regular)
Title (Good Pro Bold)
Body text (Good Pro Regular Donec lectus orci, molestie sit amet magna et, porttitor dictum massa. Integer commodo volutpat ligula, in sodales augue hendrerit id. Vestibulum tincidunt eget erat sollicitudin tempor. Curabitur purus justo, fringilla vel convallis fringilla, posuere in orci. Donec viverra condimentum rhoncus. Nulla vehicula imperdiet ornare. Nullam suscipit volutpat laoreet. Vestibulum rhoncus lacus purus, in ornare est posuere at. Donec imperdiet dignissim dui. Donec lectus orci, molestie sit amet magna et porttitor.
This is a quote. It could be something like this.
Nothing happens until something moves.
– Albert Einstein
Arial is our secondary typeface. This font is default on all computers.
It is used for mail and all Microsoft Office documents (Word, Excel, PowerPoint),
where it is not possible to have the corporate typeface.
Headline goes here
ABCDEFGHIJKLMNOPQRSTUVWXYZ
abcdefghijklmnopqrstuvwxyz
0123456789
Body text - Body text goes here
ABCDEFGHIJKLMNOPQRSTUVWXYZ
abcdefghijklmnopqrstuvwxyz
0123456789
Colors
DecideAct is a bold and recognizable brand in a category filled with blue and green competitors.
Brand colours
Our brand colours are very narrow - Orange, black and white with two background colours.
The purpose is to have a very distinct and focused brand that stands out in all media and formats.
Background colours
To make content stand out on we have a light grey and an editorial colour known from business papers Financial Times.
Use them with care and in balance with a lot of whitespace.
Data Vizualisation colours
When showing graphs we use this data vizualisation palette.
Product colours
Our product - the DecideAct platform - has a very intuitive and easy to understand traffic light based colour system.
The purple call 2 action colour has been chosen to stand out from the brand colours and the traffic light colours.
Icons
Our icons are custom made to make our brand unique. They are simple and balanced in the look and can be used in different combinations with our brand colours.


How we talk is how
we are perceived.
For people to really listen, you have to have something to say.
DecideAct has decided to become a dominent player and owning the knowledge domain
within strategy execution management - SEM.
To do this we have to both educate and inspire.
We always talk in a positive way.
We inspire people to take action on their decisions.
We are bold and dare to say things as it is.
We don't use hard to understand business lingo.
Photography style
DecideAct is all about people.
Without people, no execution.
Our photostyle is warm and authentic nordic noir.
We always strive to frame real people in real situations - not falling into to business cliches often seen in B2B communication.
We use photos taken by our own photographers or stock photos from Unsplash.com

Brand photos
We always aim to stories that makes people's feelings tick. Stories about being bold and corageous, stories about setting a goal and reaching it.
Photos from sports - both solo sports and team sports - is a nice way of telling a story about bravery and results in a different way than our competitors do.

Business Cards
& E-mail signature


Product presentations
All product presentations in PoerPoint are styled using
Arial as font.
We always try to make the slides stand out without filling them with too much text.